New Module Name
Insects in Kansas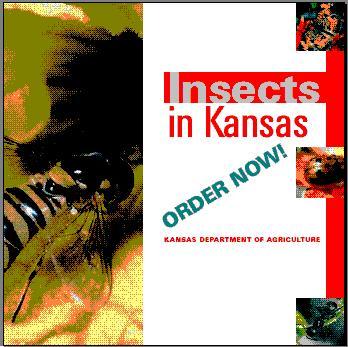 Pub Number:
S131
Description: Click the above link for ordering information for this print-only publication. Insects in Kansas, is the culmination of over a century of study & observation. If you've been wondering what kind of critters are invading your house, crawling across the road or laying eggs on your pine trees this is the book you need! Price for external customers is $25, plus shipping and tax, as applicable. Order via e-mail from
orderpub@k-state.edu
; fax 785-532-7938; phone 785-532-5830; or online a the
KSRE Bookstore
. Publication number for ordering "Insects in Kansas" is S-131. Be sure to include your full mailing address! All orders for this publication are shipped via UPS, so a street address is required for delivery. Customers will receive invoices with their shipments and should NOT prepay, since shipping costs vary, and some orders may be tax-exempt. "Insects in Kansas," published by the Kansas Department of Agriculture in collaboration with K-State Research and Extension. The 21st century update of the original version, published in 1943 and first revised in 1962, is a 520-page field guide with more than 900 color photographs to help readers identify insect species common in the central states. It includes tips on using the book and on assembling an insect collection, and identifies insects by common and scientific names. Revision authors are Stephan C. White and Glenn A. Salsbury, both entomologists with the Kansas Department of Agriculture.