Ramalho-Ortigao, Marcelo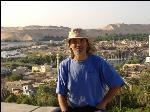 Associate Professor 106 Waters Annex
Department of Entomology Kansas State University 123 Waters Hall Manhattan, KS 66506-4004 Phone: 785 532-0139 Fax: 785 532-6232
mortigao@ksu.edu
Area(s) of Specialization:
Biology of disease vectors
Molecular Biology
Sand fly ecology
Sand fly-Leishmania interaction
sand fly functional genomics
Bio Brief
I am a molecular biologist working on sand fly-Leishmania interactions. I hold a Doctor in Sciences (D.Sc.) degree from the Oswaldo Cruz Institute, in Rio de Janeiro, Brazil, and completed my postdoctoral training at the National Institutes of Health, Bethesda, MD. I initiated my research in the field of sand fly vectors by asking questions such as: Can we utilize molecules from the vector to prevent or halt parasite development? Can we find sand fly molecules that have a broad application and can be applied to various sand fly-Leishmania pairs? Can people/animals be protected against elephantiasis by using sand fly molecules? The data we and others have generated to date suggest that sand fly-based approaches are feasible. In addition to my interest in sand fly biology, I have a keen interest in how vertebrates (including humans) may respond to sand fly bites, on land use and effects on disease expansion, biogeography, and vector-pathogen interaction in general. Studies demonstrating that targeting vector molecules interfere with pathogen development within its natural vector have significantly influenced the field of vector biology, and opened new avenues for some exciting discoveries.
Education
B.S. Biological Sciences, State University of Rio de Janeiro, 1986
Ph.D. Molecular and Cell Biology, Oswaldo Cruz Institute, 2000
Post Docto Vector Molecular Biology, National Institute of Allergy and Infectious Diseases,
Post Docto Parasite Biology, National Institute of Allergy and Infectious Diseases,
Teaching
Biology of Disease Vectors of Human and Veterinary Importanc [ENTOM 849]