Special Notes 2005
'Aliens' That Stain, Smell, Pinch May Be Sharing Kansas Homes -- Asian Lady Beetles Can Appear in Any Season
HAYS, Kan. – A home insect "invasion" can happen any time warm temperatures interrupt a cold High Plains winter. In some places these temporary boarders have numbered in the tens or even hundreds of thousands, said J.P. Michaud, entomologist with Kansas State University's Research Center in Hays. Link to article at the K-State Research and Extension Newsroom:
lady_beetles122205.htm
Itch Mites Linked to Oak Trees Plaguing Midwesterners Again
MANHATTAN, Kan. -- The "Oak leaf itch mite," the cause of mysterious bites in many Midwestern communities in 2004, is on the loose again, according to Kansas State University scientist Alberto Broce. The mite population levels this year, however, appear to be different from those observed last year.
Link to article at the K-State Research and Extension Newsroom: itch_mites101805.htm
Cool Weather Signals Invasion.
Fall is the time to watch out for household invaders. Crickets, boxelder bugs, millipedes, and many other insects invade homes this time of year seeking shelter for the winter. Many of these pests are more of a nuisance than a threat to health or property, but that is not much consolation for those whose homes are invaded by hundreds or thousands of unwanted, multi-legged guests.
The first line of defense against these pests is to limit access to the home by reducing the points of entry. Make sure screens are in place and free of holes. Check that the calk is in good condition around windows, doors and foundation walls. Then remove as much harborage form around the foundation of the home as practical. While some foliage and mulch around the home is maybe needed for curb appeal, avoid over grown shrubs and excessive amounts of clutter.
Insecticides can sometimes be useful in reducing these migrating pests. Treating the foundation and some of the area around the home can often greatly reduce the numbers of pests that can enter the home. Once in the home first decide if the problem can be easily controlled by hand-picking or vacuuming to remove individuals. This may be all that is needed, if populations are minimal. If populations are high or persistent, the use of an insecticide may be justified. Aerosol sprays may be use for quick knockdown, but their effects are short lived. For some pests residual sprays can be used to treat baseboards, cracks, crevices and other hiding places. Because there are hundreds of products on the market, it is best to visit a local supplier of lawn or home insecticides and look for a product labeled for the pest and the location you want to treat.
For more information on specific pests check the following publications:
Boxelder and Red-shouldered bugs
Crickets (Since our Cricket pub. is out of date, check this Texas A&M web page for more up-to-date treatment information)
Know the Bug By the Bite
August 15, 2005 -- One of the challenges of being a "bug person" at Kansas State University is fielding the phone calls that ring in each summer from annoyed, uncomfortable people who want to know: "What bit me?" To help people assess the "reminders" that pests leave behind, this article outlines the criteria for identifying three of the more common types of bite: itch mite, chigger and mosquito.

Link to article at the K-State Research and Extension Newsroom: bug_bite081505.htm

Fall is coming: Watch for Lone Star Ticks
The lone star tick, has become common in Kansas as far west as Mitchell County. "It's an aggressive tick that mostly moves around with white-tailed deer and wild turkeys." It will attack humans in its immature stages. And, you often find its newly hatched larvae in late summer and fall – sometimes in masses of hundreds or thousands of tiny ticks on a single leaf.

Link to article at the K-State Research and Extension Newsroom: tick_coming081205.htm
K-State Scientist Comments on Late-Season Insects in Soybeans
Sept. 2, 2005 MANHATTAN, Kan. – With soybean harvest drawing nearer, some producers may believe that the time for scouting fields for insects is past, but that's not so, according to a Kansas State University entomologist.
The primary insect causing defoliation right now seems to be the green cloverworm. Green cloverworm larvae are light green with three pairs of white stripes running the length of the body. In addition to three pairs of legs near the head, three pairs of fleshy prolegs can be found near the middle of the body, and one more pair is found at the rear of the insect.
Link to article at the K-State Research and Extension Newsroom: insects_soybeans090205.htm
Wheat Growers Urged to Consider Hessian Fly Threat Before Planting
August 12, 2005. For years the Hessian fly has been a persistent, but typically localized pest for High Plains wheat growers, but infestation reports have been increasing for the past three to four years.
Link to article at the K-State Research and Extension Newsroom: Hessian_fly081205.htm
Thanks to reports from Crop Quest consultants, we have verified infestations of soybean aphid in NE Kansas during 2005. On Wednesday July 27, we saw very slight populations in fields near Topeka in Shawnee County. How slight?: A single aphid was found in one field and very sparse colonies of 10 to 15 or so aphids were located in another. Reports indicated that populations had occasionally reached 25 aphids per plant for up to 3 or 4 weeks before we were notified. (Click on headline above for link to newsletter article.)
Alfalfa Weevil -- April -May 2005
Jeff Whitworth and Randy Higgins were checking alfalfa fields (April 14th) for signs of alfalfa weevil. They were working separate areas and came to the same conclusion: They agreed that NOW is the time for people to be looking closely at their alfalfa - at least from Wichita to north of Salina, then east past Manhattan. Phil Sloderbeck indicated that treatment was already taking place in parts of Southwest Kansas.
This may be redundant, but it is important: A good percentage of fields looked almost perfect in that obvious signs of insect feeding were lacking. However, do not let that superficial appearance deceive you into thinking that alfalfa weevil will not be a concern this year. In many apparently undamaged fields there are large numbers of newly hatched alfalfa weevil larvae hidden in those folded leaves. Thus far, these larvae have only chewed tiny pinholes within leaves that are still expanding. Based on the instar (larval-age) distributions, more hatching of spring-laid eggs will likely take place in many fields.

As upper leaves expand and heat units continue to accumulate, the damage will become much more obvious. Based on the size and number of tiny larvae that we saw, be prepared to check your fields again in 3 to 5 or 7 days if you do not find larvae or see damage. Some fields will likely get by without treatment, but there is no way to judge that accurately without scouting your fields.
By April 22, damage to untreated fields in the Garden City area was becoming severe as evidenced by the following image: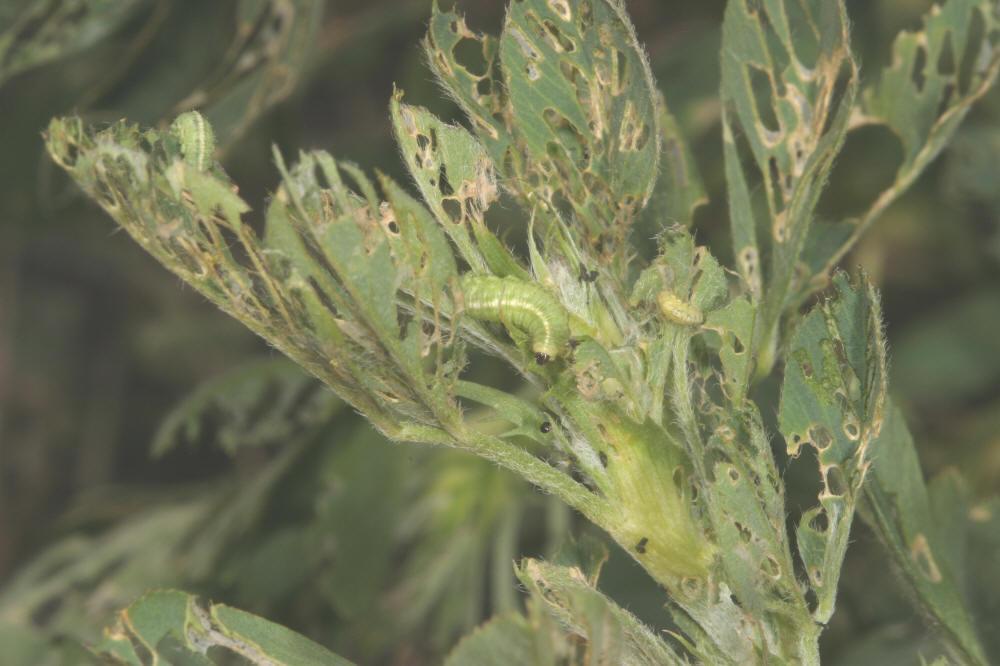 By May 5 weevil larva were beginning to pupate in the Garden City area: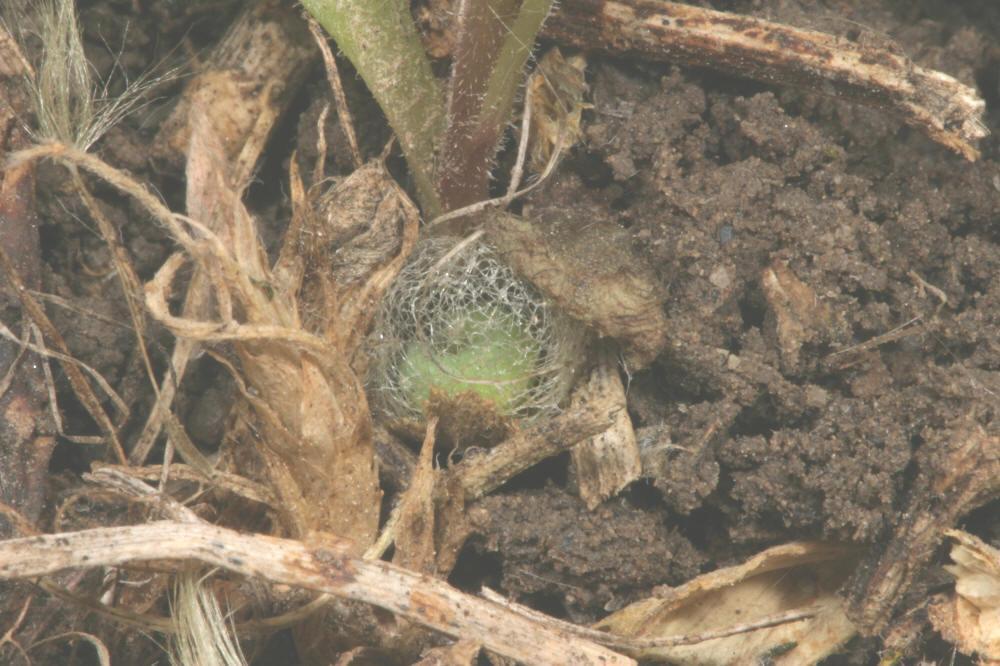 Russian Wheat Aphid Alert -- April 2005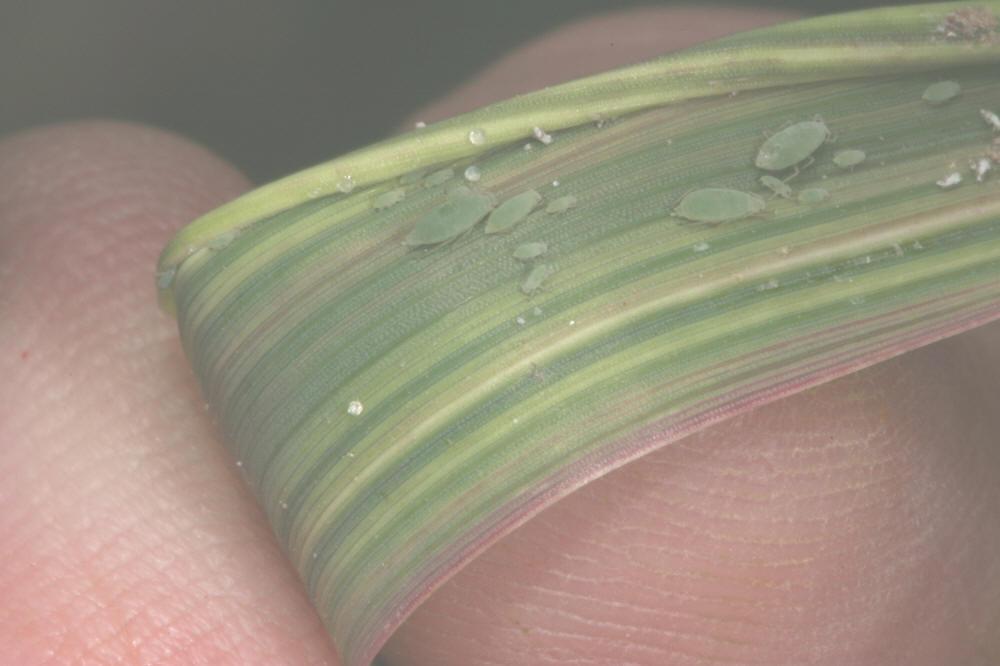 The Russian wheat aphid is showing up in fields throughout far western Kansas. In most fields damage is probably below economic levels, but some fields along the Colorado border are more heavily infested and some treatment is taking place. Infested plants can often be seen fairly easily because of the purple or white striping on the leaves. Leaves also are characteristically rolled-up with the aphids feeding inside the rolled up leaves.
It has been a while since Russian wheat aphids have occurred in treatable levels in western Kansas and in addition there is now a new biotype of Russian wheat aphid that has been reported the last couple of years that may limit the effectiveness of resistant wheat varieties that some producers were using.
Growers in Western Kansas should monitor fields carefully over the next few weeks to determine if Russian wheat aphids are present and if populations appear to be increasing. In wheat with a yield potential of at least 20 bushels per acre, treatment should be considered when 20% of tillers display symptoms and the majority of these have live aphids. In fields with a yield potential of 40 bushels or more, it may be economic to treat when as few as 10 % of tillers are infested. When 30-40% of primary tillers are infested anytime between flowering and the soft dough stage treatment may be advisable, but infestations confined to late-developing secondary tillers are less damaging to yield. More information on the Russian wheat aphid can be found at: Extension>Insect Information>Crop Pests>Wheat>Russian
Hessian Fly Hessian fly is causing damage in scattered fields throughout South Central, Central and Southwest Kansas.
Hessian Fly Photos -- Scott County Jan. 19, 2005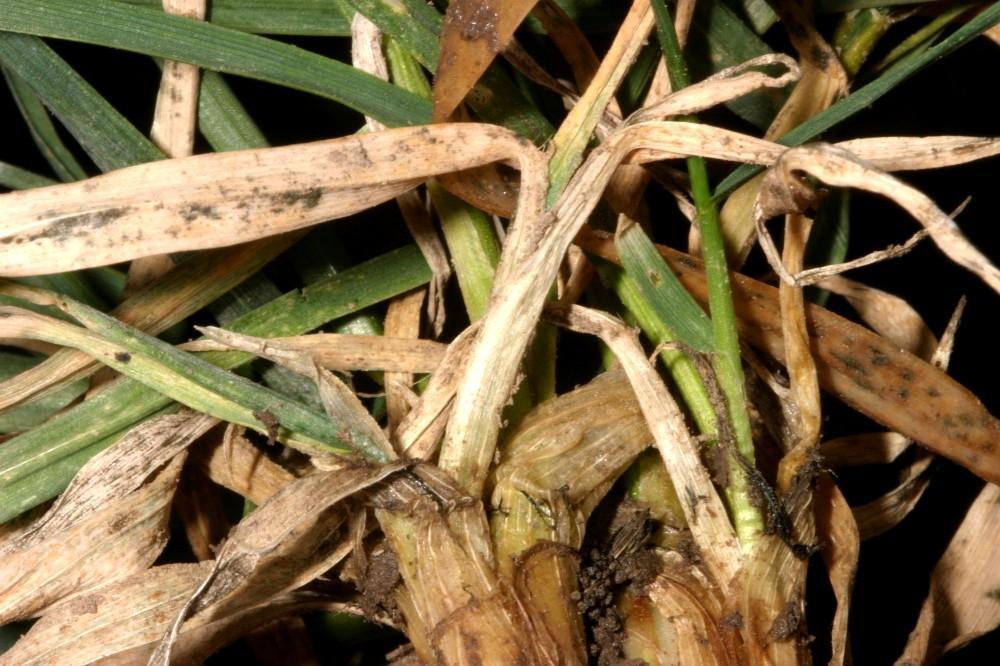 Plants Showing Dead and Dying Tillers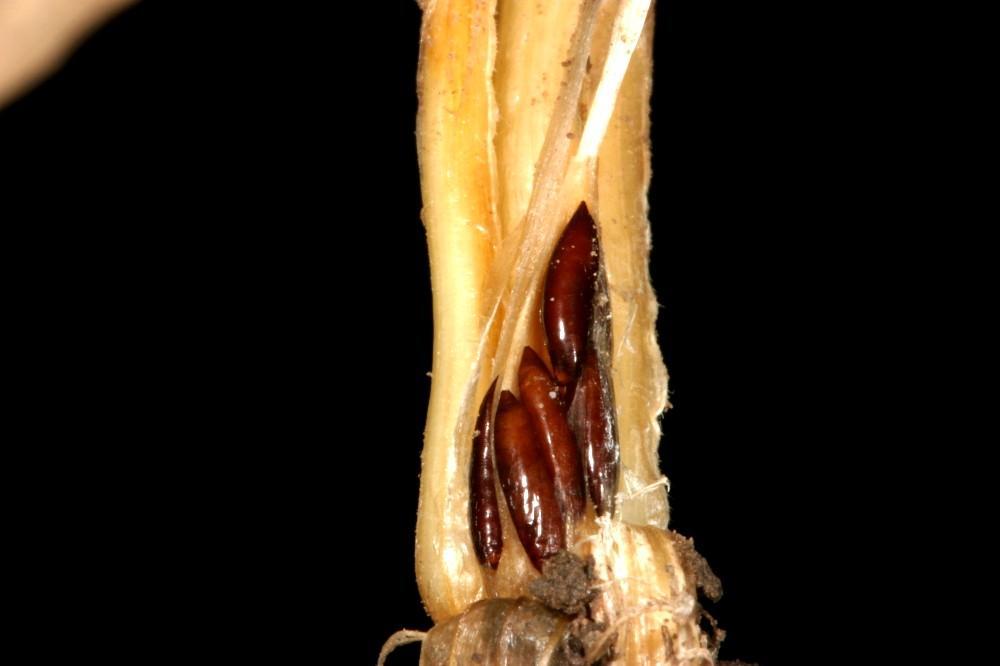 Leaf Sheath Pulled Back to Expose Hessian Fly Pupae
Depending on the stage of wheat when it became infested, fall infestations can lead to the death of wheat plants or the death of individual tillers on the wheat plant. If the larvae infest the plants early death of the whole plant is typical, if the plant has begun to tiller, by the time infestation occurs then some of the tillers may survive. Most of the fields with noticeable Hessian fly problems reported so far, have been where wheat was planted no-till into last years wheat stubble (continuous no-till wheat) which is unusual in western Kansas, but was possible this year due to the moisture the area received in late summer. This means that multiple factors combined to lead to this problem.
1. Undisturbed stubble allowed for good survival of any Hessian fly that were in the field last summer.
2. The moisture that allowed the producers to think about continuous cropping the fields would have also been advantageous to the Hessian fly.
3. Most of the fields reported so far were planted prior to the "fly free date" (early planting favors Hessian fly).
4. Mild fall weather was probably favorable for Hessian fly development long past the normal fly free date. (Note that in years where the fall weather is abnormally mild (like 2004) even planting after the fly free date is not always 100 percent effective.)
5. Most of the varieties currently grown in Kansas are susceptible to Hessian fly.
If producers notice wheat plants or tillers dying this winter, they should be checking to see if there are Hessian fly pupae under the leaf sheaths at the base of the plants. Without looking many producers will probably assume that the wheat is dying from some other source or just blame poor stands on winter injury.
If stands are very poor then fields will probably be destroyed. However where just a percentage of the tillers die then the decision may be more difficult. Spring infestations will depend on both the presence of overwintering pupae and spring weather. If 10-20% of the tillers are infested with larvae-pupae counts up to 4 per plant, you could expect a heavy spring infestation, but if weather is hot and dry then damage could be less.
More information on Hessian Fly can be found at: Extension>Insect Information>Crop Pests>Wheat>HessianFly
Petition to Revoke or Modify Tolerances Established for Carbaryl; Notice of Availability
SUMMARY: EPA is seeking public comment on a January 10, 2005, petition from the Natural Resources Defense Council (NRDC), available in docket number OPP-2005-0077, requesting that the Agency revoke, or in the alternative, modify all tolerances for the pesticide carbaryl. The petitioner, NRDC, requests this action to obtain what they believe would be proper application of the safety standards of the Federal Insecticide, Fungicide, and Rodenticide Act (FIFRA) and the Federal Food, Drug, and Cosmetic Act (FFDCA), section 408, as amended by the Food Quality Protection Act (FQPA) of 1996. NRDC is filing this petition in response to a Notice of Availability for the Carbaryl Interim Reregistration Eligibility Decision (IRED), published in the Federal Register on October 27, 2004. The carbaryl IRED is available on the EPA website http://www.epa.gov/edocket under docket number OPP-2003-0376 and on the Agency's pesticide web page, http://www.epa.gov/pesticides/reregistration/status.htm. DATES: Comments, identified by docket identification (ID) number OPP- 2005-0077, must be received on or before May 31, 2005. For more information on how to comment on this issue see: http://www.epa.gov/fedrgstr/EPA-PEST/2005/March/Day-30/p6296.htm
Press Releases
'05 Weather Creating Paradise for Chiggers
MANHATTAN, Kan. – It's the heat AND humidity that turn the outdoors into chigger paradise. Of summertime's Terrible Three – chiggers, mosquitoes and ticks – chiggers are the only ones that are not bloodsuckers. (They eat the contents of skin cells.) Chiggers don't transmit diseases – at least in the United States, said Ludek Zurek, medical/veterinary entomologist for Kansas State University Research and Extension.
Unless Kansans Take Action Soon, 2005 May Be Year for Mosquitoes
MANHATTAN, Kan. – This year's mosquito monitoring indicates the species that overwintered as eggs in Kansas are already having a very good year. The species that overwintered as adults – including the West Nile virus-carrying Culex mosquitoes – are rapidly expanding in numbers.
Crayfish Kin Having Heyday Indoors and Out July 14, 2005
-- They're scurrying around and hiding in basements, crawl spaces and bathrooms. They're scavenging the decaying matter in grass clippings, leaf piles, old boards and wood mulch They're also chewing on the tender vegetation and fruit in flowerbeds, potted plants and gardens. Pillbugs and sowbugs are having a heyday this year because they love moisture.
Evidence Suggests More Itch Mite Outbreaks This Year July 8, 2005
MANHATTAN, Kan. – The tiny pests that caused big problems for Midwesterners last year may be back.
Growers Urged to Gauge Insect Management Decisions July 7, 2005
Taking steps to manage pesky insects is a given in modern crop production, but not all farmers try to determine how well those steps worked. "Growers should not pass up the opportunity to assess the benefits or shortcomings of their insect management decisions," said Kansas State University entomologist Randy Higgins. "One option is to leave one or more untreated check strips within a treated field as a means of roughly gauging how serious pest problems would have been if intervention of some type had not been imposed."
Time To Get Ready For Harvest May 31, 2005
MANHATTAN, Kan. – The wheat is turning color and the combines are headed south to begin the wheat harvest. That means now is a good time to clean out grain bins and plan for insecticide treatments, a Kansas State University scientist said.
Weevils May Slow Alfalfa Regrowth May 16, 2005
MANHATTAN, Kan. – A scattering of grayish-silver alfalfa fields appeared across Kansas this spring. As a result, Kansas State University entomologists are hoping alfalfa growers and crop consultants will pay special attention to regrowth –particularly any slow regrowth – during the two weeks following the cutting that's already started in northern and central Kansas.
West Nile Virus in Kansas to Stay -(April 26th)-
Story by Ludek Zurek on current status of West Nile Virus including how to protect yourself against mosquito bites.
Stable Flies Can Be a Problem in Pastures Too
K-State Scientists Offer Control Tips April 6, 2005