First Hand Accounts from Students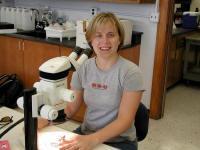 By Erika A. Jensen, California State University-Chico
This summer I spent nine weeks studying behaviors of a small parasitoid wasp (Gryon pennsylvanicum), which is a natural enemy of the squash bug (Anasa tristis). This wasp is being studied in the hope that it can someday be used as a non-pesticide alternative to squash bug control.
Some people may think that spending a summer in this way would be unappealing, but for me it was an experience I will treasure for the rest of my life. My mentor professor, Dr. James Nechols, specializes in the area of biological control, and under his supervision, I was given a number of very interesting research assignments.
Under the auspices of the SUROP program I was supported financially by the Graduate School and was given free room and board at a dorm on campus. I was also surrounded by the friendly and supportive people in the Entomology Department, both professors and graduate students, and I made friends I will keep for a lifetime.
Because of the SUROP experience, I learned I have what it takes to go to graduate school, and with this newfound confidence, I applied for and was accepted to Kansas State University. I am looking forward to entering the Master's Degree in Entomology program in January 2002.
[note: Erika completed her Master's degree and is now at North Carolina State University]