Distinguished Alumni Award
This annual award was established in 1998 to honor alumni. The recipient is selected by the Department of Entomology from nominations of alumni to recognize their contributions to entomology. The recipient visits the department, interacts with students and faculty, presents a lecture, and receives a plaque with the designation "Distinguished Alumnus Award".
Year

Name

Affiliation/Lecture Title

2017
Dr. Marlin Rice

Product Biology Technical Manager, Syngenta

"Forty years of entomology: Perspectives from across the spectrum of graduate school, academia, industry and professional society"

2016
Dr. Kenneth Sorensen

Professor Emeritus, North Carolina State University

"Honey bees, Buffalograss webworm and Sweetpotato weevil: Efforts over 50 Years"

2015
Dr. Kirby Stafford

Connecticut Agricultural Experiment Station

"Ticks, Inquiries, and Insect Invasions"

2014
Dr. Mustapha El-Bouhssini

Consultative Group on International Agricultural Research

"Biodiversity and Integrated Gene Management Program, International Center for Agricultural Research in the Dry Areas (ICARDA)"

2013
Dr. Raul Guedes

Federal University of Viçosa

"Insecticides in insects: Too Much of a Good Thing ....?"


2012
Dr. Terry Mize

FMC Corporation, North America Product Development Manager

"An entomologist's journey in the commercial world: expectations and realities of choosing a career with a multi-national crop protection corporation"

2011
Dr. Sue Blodgett
Iowa State University, Department Chair of Department of Entomology
2010
Dr. Kanayo F. Nwanze
International Fund for Agricultural Development (UN), President
2009
Dr. Gary Brewer
University of Nebraska, Department Head of Department of Entomology
2007
Dr. Robert A. Wirtz
Entomology Branch of the Centers for Disease Control
2006
Dr. Dennis Calvin

Pennsylvania State University

"Using high-resolution climatology and weather data for field crop pest management and forensic investigation"

2005
Dr. Jeffrey Stuart
Purdue University
2004
Dr. John Edman
2003
Dr. Aart van Schoonhoven
2002
Dr. Lee Halgren

Colorado State Colleges, Denver

"Bugs, Budgets and Bills - The unintentional and serendipitous journey of an entomologist"

2001
Dr. Larry Murdock

Purdue University

"An entomologist's adventures in Africa: Simple technology for managing the cowpea weevil"

2000
Dr. James Webster

USDA-ARS-Stillwater

"32 years after KSU: Cereal leaf beetles, greenbugs, Russian wheat aphid, and the ARS"

1999
Dr. Perry Adkisson

Texas A&M University

"Beyond Kansas State University"

1998
Dr. E.A. Heinrichs

University of Nebraska

"World food security. What can entomologists contribute?"
Other Images
2007 Recipient - Dr. Bob Wirtz (right), Entomology Branch of the CDC, receives his plaque from Dr. Ludek Zurek, professor of Entomology at Kansas State University.
Dr. Wirtz (below, right) earned his Ph.D. in the department in 1976 with Dr. Ted Hopkins (below, left) as his advisor.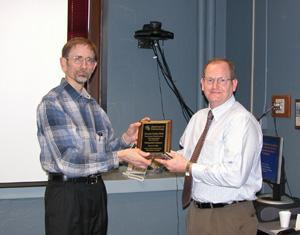 Dick Beeman (left) presents the 2006 Distinguished Alumni award to Dennis Calvin (right).