Student Sponsored Seminar Speaker - Popenoe Invited Speaker
Each year the graduate students in the department select and sponsor a guest speaker. This greatly enhances the seminar series, but specifically brings in a speaker of interest to the students.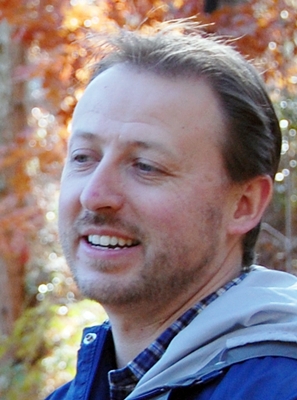 The speaker selected for 2017 was Dr. Jonathan Lundgren (pictured right), the Director of the Ecdysis Foundation in South Dakota. Dr. Lundgren's research program focuses on assessing the ecological risk of pest management strategies and developing long-term solutions for sustainable food systems. His ecological research focuses heavily on conserving healthy biological communities within agroecosystems by reducing disturbance and increasing biodiversity within cropland. His seminar, entitled "Ecologically based food systems and the future of entomology and pest management", took place on March 15th at 4:00 pm in Waters Hall room 231.
---
Previous Popenoe Speakers
| | | |
| --- | --- | --- |
| Year | Speaker | Affiliation |
| 2005 | Dr. Robert Hall | University of Missouri |
| 2007 | Dr. David Andow | University of Minnesota |
| 2011 | Dr. Roger Gold | Texas A&M University |
| 2012 | Dr. Ralph E. Williams | Purdue University |
| 2013 | Dr. Alex Wild | Urbana, Illinois |
| 2014 | Dr. Yong-Lak Park | West Virginia University |
| 2015 | Dr. Diane Debinski | Iowa State University |
| 2016 | Dr. Renata Bolognesi | Monsanto |
| 2017 | Dr. Jonathan Lundgren | Ecdysis Foundation |