Student Sponsored Seminar Speaker - Popenoe Invited Speaker
Each year the graduate students in the department select and sponsor a guest speaker. This greatly enhances the seminar series, but specifically brings in a speaker of interest to the students.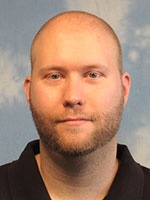 The speaker selected for 2019 was Dr. Nicholas Buchon (pictured right), an associate Professor in the Department of Entomology at Cornell University. Dr. Buchon's research program focuses on the crosstalk between infection and host physiology. Specifically his lab uses genomic and genetic approaches to investigate the impact of pathogens and microbiota on body homeostasis in insects. His seminar, entitled "From Pathogen to microbiota: How gut microbes interact with their host," took place on May 7th at 4:00 pm in Waters Hall room 231.
---
Previous Popenoe Speakers
| | | |
| --- | --- | --- |
| Year | Speaker | Affiliation |
| 2005 | Dr. Robert Hall | University of Missouri |
| 2007 | Dr. David Andow | University of Minnesota |
| 2011 | Dr. Roger Gold | Texas A&M University |
| 2012 | Dr. Ralph E. Williams | Purdue University |
| 2013 | Dr. Alex Wild | Urbana, Illinois |
| 2014 | Dr. Yong-Lak Park | West Virginia University |
| 2015 | Dr. Diane Debinski | Iowa State University |
| 2016 | Dr. Renata Bolognesi | Monsanto |
| 2017 | Dr. Jonathan Lundgren | Ecdysis Foundation |
| 2018 | Dr. Blair D. Siegfried | University of Florida |
| 2019 | Dr. Nicholas Buchon | Cornell University |