Extension - Publications
We utilize several types of media to distribute information on various topics:
Recent Publications Include:
Army Cutworm MF 3150.pdf (March 2014)
Pocket Guide to Common Pest Problems and Beneficials S158.pdf (August 2012)
Alfalfa Insect Management 2017 MF 809 pdf
Corn Insect Management 2017 MF 810 pdf
Cotton Insect Management 2017 MF-2674
Sorghum Insect Management 2017 MF 742 pdf
Soybean Insect Management 2017 MF 743 pdf
Sunflower Insect Management 2017 MF 814 pdf
Wheat Insect Management for 2017 MF 745 pdf
Rose Rosette Disease MF 2974 (March 2011)
Western Flower Thrips: Management on Greenhouse-Grown Crops, MF2922, 596K (July 2010)
Stink Bugs MF2891(September 2009)
Ants MF2887
Insect Identification Service EP-162 (April 2009)
Cowpea Aphid MF2865 (January 2009)
Hessian Fly MF2866 (January 2009)
Termites MF722 (January 2009)
Pillbugs MF2855 (November 2008)
NEW!!!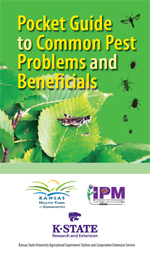 Publication ID:S158
The purpose of this guide is to help homeowners and
gardeners identify common landscape pests and beneficials.
Good pest management can only be achieved with proper
identification. It is important to recognize insect pests and know
when and how they might cause damage before implementing
control. This publication features 40 of the most common insect
pests and beneficials. Specifically, it contains information on
what the insects look like, life stages, damage, and what can be
done to control them.
Crop Insects of Kansas
Available from KSU Distribution Center
Publication ID:
S152
Description:
Print only. Field guide to important arthropod pests and beneficials affecting major crops in Kansas. Descriptions, basic biology, type of damage, and notes on management practices. 154-page, spiral bound, color.
Author(s):
Davis, Holly
Sloderbeck, Phil
Whitworth, R. Jeff
Publication Date:
October 2010
Price:
$11.40 plus shipping
Link to order form:
KSRE Bookstore
Order from: Email:
orderpub@k-state.edu
Phone: 785-532-5830 Fax: 785-532-7938 Mail: Production Services Kansas State University 24 Umberger Hall Manhattan, KS 66506-3402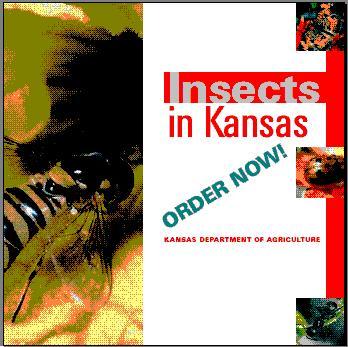 Insects In Kansas
Got Bugs? If you've been wondering what kind of critters are invading your house, crawling across the road or laying eggs on your pine trees -- help is on the way!
"Insects in Kansas," published by the Kansas Department of Agriculture in collaboration with K-State Research and Extension. The 21st century update of the original version, published in 1943 and first revised in 1962, is a 520-page field guide with more than 900 color photographs to help readers identify insect species common in the central states. It includes tips on using the book and on assembling an insect collection, and identifies insects by common and scientific names. Revision authors are Stephan C. White and Glenn A. Salsbury, both entomologists with the Kansas Department of Agriculture.
Contact the KSRE Bookstore to place orders. Price for external customers is $25, plus shipping and tax, as applicable. Orders may be placed now and will be filled as soon as the book is printed.
How to order
Publication number for ordering "Insects in Kansas" is S-131. Be sure to include your full mailing address! All orders for this publication are shipped via UPS, so a street address is required for delivery. Customers will receive invoices with their shipments and should NOT prepay, since shipping costs vary, and some orders may be tax-exempt.