Brown, Susan J.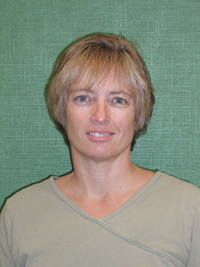 Professor, Ancillary 239A Chalmers Hall
Manhattan, KS 66506 Phone: (785) 532-3935
sjbrown@ksu.edu
on Biology website
Area(s) of Specialization:
Classical and developmental genetics; molecular biology
Publications
Park, Y. J. Aikins, L.J. Wang, R. W. Beeman, B. Oppert, J. C. Lord, S. J. Brown, M. D. Lorenzen, S. Richards, G M. Weinstock, and R A. Gibbs. 2008. Analysis of transcriptome data in the red flour beetle Tribolium castaneum. Insect Biochemistry and Molecular biology 38: 380-386
Siebert, K., M. D. Lorenzen, S. J. Brown, Y. Park, and R. W. Beeman (2008) Tubulin superfamily genes in Tribolium castaneum, and use of a Tubulin promoter to drive transgene expression. Insect Biochem. Mol. Biol. 38: 749-755.
Tribolium Genome Sequencing Consortium 2008. The genome of the model beetle and pest Tribolium castaneum. Nature 452:949-955.
Wang J., C-C., W., S. Brown, and Y. Park. 2008. Large diversity of piggyBac-like elements in the genome of Tribolium castaneum. Insect Biochemistry and Molecular biology 38: 490-498
Beeman, R.W., S.J. Brown, M.D. Lorenzen and Y. Park. 2005. Tribolium genomics: sleuthing for novel targets. Abstracts of papers of the American Chemical Society 228: U85-U85 016-AGRO part 1, Aug. 22, 2004