Ganta, Roman Reddy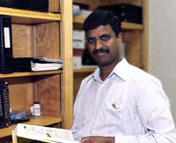 Professor, Ancillary Diagnostic Medicine/Pathobiology
101 Trotter Hall Manhattan KS 66506 Phone: (785) 532-4612 Fax: (785) 532-4851
rganta@ksu.edu
Home page on Veternary school website
Area(s) of Specialization:
Molecular biology of vector-borne pathogens; tick and rickettsia interactions
Publications
Please visit my home page on the Veterinary School website for a complete list of publications.
Sirigireddy K.R., Kennedy G.A., Broce A., L. Zurek, R R Ganta. (2006). High prevalence of West Nile virus in Kansas: An increased risk in acquiring infection from a mosquito bite. Vector-Borne and Zoonotic Diseases (in press).