Ruberson, John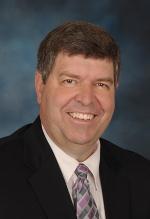 Professor and Department Head
Department of Entomology
Kansas State University
123 W. Waters Hall
Manhattan, KS 66506
Phone(s):785 532-4712
E-mail: ruberson@ksu.edu
Education:
BS (Biology Teaching) - Brigham Young University, 1982
MS (Zoology) - Brigham Young University, 1984
PhD (Entomology, minor in Plant Pathology) - Cornell University, 1989
Research Emphasis:
My research interests are in the areas of (1) biological control of arthropod pests, (2) interactions of arthropod natural enemies with crop production practices, (3) integrated pest management, (4) sustainable agriculture, and (5) ecology of insect predators and parasitoids.
Recent Publications:
Chen, Y, JR Ruberson, X Ni. 2014. Influence of host plant nitrogen fertilization on haemolymph protein profiles of herbivore Spodoptera exigua and development of its endoparasitoid Cotesia marginiventris. Biological Control 70: 9-16.
Rodrigues, ARS, JR Ruberson, JB Torres, HAA Siqueira, JG Scott. 2013. Pyrethroid resistance and its inheritance in a field population of Hippodamia convergens (Guérin-Méneville) (Coleoptera: Coccinellidae). Pesticide Biochemistry and Physiology 105: 135-143.
Paulsen, CP, TE Cottrell, JR Ruberson. 2013. Distribution of the black pecan aphid, Melanocallis caryaefoliae, on the upper and lower surface of pecan foliage. Entomologia Experimentalis et Applicata 146: 252-260.
Hagenbucher, S, FL Wackers, FE Wettstein, DM Olson, JR Ruberson, J Romeis. 2013. Pest tradeoffs in technology: Reduced damage by caterpillars in Bt cotton benefits aphids. Proceedings of the Royal Society B, Biological Sciences 280:
Gardner, WA, HB Peeler, J LaForest, PM Roberts, AN Sparks, Jr., JK Greene, D Reisig, DR Suiter, JS Bacheler, K Kidd, CH Ray, XP Hu, RC Kemerait, EA Scocco, JE Eger, JR Ruberson, EJ Sikora, DA Herbert, C Campana, S Halbert, Sd Stewart, GD Buntin, MD Toews, CT Bargeron. 2013. Confirmed distribution and occurrence of Megacopta cribraria (F.) (Hemiptera: Heteroptera: Plataspidae) in the southeastern United States. Journal of Entomological Science 48(2): 118-127.
Hagenbucher, S, DM Olson, JR Ruberson, FL Wäckers, J Romeis. 2013. Resistance mechanisms against arthropod herbivores in cotton and their interactions with natural enemies. Critical Reviews in Plant Sciences 32: 458-482.
Ruberson, JR, K Takasu, GD Buntin, JE Eger, WA Gardner, JK Greene, TM Jenkins, WA Jones, DM Olson, PM Roberts, DR Suiter, and MD Toews. 2013. From Asian curiosity to eruptive American pest: Megacopta cribraria (Hemiptera: Plataspidae) and prospects for its biological control. Applied Entomology and Zoology 48: 3-13.
Olson, DM and JR Ruberson. 2012. Crop-specific mortality of Southern green stink bug eggs in Bt- and non-Bt cotton, soybean and peanut. Biocontrol Science and Technology 22: 1417-1428.
Olson, DM, JR Ruberson, DA Andow. 2012. Effects on stink bugs of field edges adjacent to woodland. Agriculture, Ecosystems and Environment 156: 94-98.
Harris, CM, JR Ruberson, R Meagher, and JH Tumlinson. 2012. Host suitability affects odor association in Cotesia marginiventris: Implications in generalist parasitoid host-finding. Journal of Chemical Ecology 38: 340-347.