Chanbang, Yaowaluk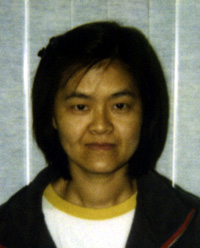 Ph.D. 2005
Bio Brief
Evaluation of diatomaceaous earth, methoprene, and varietal resistance to control the Lesser Grain Borer in stored rice
Research
Diatomaceous earth (DE) and methoprene, two insecticides with low mammalian toxicity, will be evaluated against the lesser grain borer,
Rhyzopertha
dominica
(F.) on rough rice (
Oryza
sativa
L.). Since DE or methoprene alone may not completely control lesser grain borers, a combination approach may be required to give effective protection. Long grain, medium grain, and short grain rough rice will be tested for varietal resistance to the lesser grain borer, and resistance characters will be measured by assessing development effects. Varietal resistance will be integrated with the chemical treatments to employ a combination approach to control the lesser grain borer on rough rice.
Publications
Chanbang, Y., F.H. Arthur, G.E. Wilde, J.E. throne, and G.H. Subramanyam. 2008. Methodology for assessing rice varieties for resistance to the lesser grain borer, Rhyzopertha dominica. Journal of Insect Science 8.
Changang, Y., R.H. Arthur, G.E. Wilde and J.E. Throne. 2007. Efficacy of diatomaceous earth and methoprene, alone and in combination, against Rhyzopertha dominica (F.) (Coleoptera: Bostrichidae) in rough rice. Journal of Stored Products Research 43: 396-401
Chanbang, Y., F.H. Arthur, G.E. Wilde and J.E. Throne. 2007. Efficacy of diatomaceous earth to control Rhyzopertha dominica (F.) (Coleroptera: Bostrichidae) in rough rice: impacts of temperature and relative humidity. Crop Protection 26: 923-929