Ching'Oma, Godfrey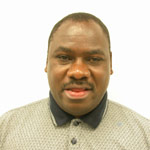 Ph.D. 2006
godie@ksu.edu
Bio Brief
Godfrey Ching'oma was a Fulbright graduate student pursuing his Ph. D degree in Entomology at Kansas State.

He is a citizen of Malawi, a country in south-eastern Africa. Godfrey has a Master of Science degree in Entomology which he obtained at Mississippi State University in 1993. He also has a Bachelor of Science degree in Agriculture awarded by the University of Malawi at Bunda College of Agriculture in 1987. Since 1988, Godfrey has been an employee of the Research Department of the Ministry of Agriculture in Malawi.
"Spatial distribution and movement of the Lesser Grain Borer, Rhyzopertha dominica F."
Research
Godfrey is studying the dispersal behavior and spatial-temporal dynamics of lesser grain borer, Rhyzopertha dominica (F.), Coleoptera: Bostrichidae, a stored product pest. He has done research on the dispersal capacity of lesser grain borer on an open field at the Konza Prairie, Kansas, using mark-release recapture. Godfrey has also done studies to assess the flight behavior of lesser grain borer in an agricultural landscape in Dickinson County, Kansas, in 2003 and 2004, using delta sticky aggregation pheromone traps. His studies also include the overwintering behavior of lesser grain borer.