Grieshop, Matt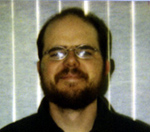 Ph.D. 2005 Phone: 509-663-8181
mgriesho@ksu.edu
Tree Fruit Research & Extension
Bio Brief
Evaluation of Trichogramma spp. egg parasitoids for the biological control of the Indianmeal moth in retail stores and warehouses
my family (personal) website is http://www.grieshop.5u.com/ .
Education
Ph.D. Entomology, Kansas State University, 2005
Research
Plodia interpunctella (Indian meal moth) is a cosmopolitan pest of stored grain, flour, and processed foods. Traditional management strategies have consisted of insecticide fumigations, fogs, and protectants applied to food products. In recent years chemical management strategies have become less available to storage managers due to environmental regulations and the loss of chemical tools, increased concern over worker safety, as well as consumer concern over food contamination by pesticides. Trichogramma spp. egg parasitoids have some inherent advantages as biological control agents in high visibility storage environments such as processing plants and retail stores. Advantages presented by Trichogramma spp. include; ready commercial availability of wasps, the wasps are tiny and hard to see or identify to the casual observer, and Trichogramma attack the egg stage of moths thereby removing pests from the environment prior to their damaging larval stage. Cooperators in Canada have identified Trichogramma pretiosum as a suitable parasitoid for P. interpunctella from a series of host choice studies. Presently Trichogramma are applied at rates based on personal experience rather than on estimates of host density and distribution. Furthermore, parasitoid suitability to specific hosts is measured purely as a function of host acceptance. In order to improve the release patterns of Trichogramma in stored product environments we must first strive to understand individual Trichogramma species' rates of distribution, foraging behavior, and ability to deal with the structural barriers presented by man-made environments.
My dissertation research focuses on the foraging capacity of Trichogramma pretiosum in the spatial and structural context of retail environments. I am using a combination of direct observation, mid-scale oviposition trials, room scale simulated retail environments, as well field trials in actual retail environments to address the question of how Trichogramma release points might be better situated to improve pest management. Additionally I am seeking to design a series of laboratory bioassays, which will identify the potential of different species and strains of Trichogramma to successfully forage in stored-product environments.
Publications
Grieshop, M.J., P.W. Flinn, J.R. Nechols and M. Scholler. 2007. Host-foraging sucess of three species of Trichogramma (Hymenoptera: Trichogrammatidae) in a simulated retail environment. Journal of Economic Entomology 100: 591-598
Grieshop, M.J., P.W. Flinn, and J.R. Nechols. 2006. Biological control of indianmeal moth (Lepidoptera : Pyralidae) on finished stored products using egg and larval parasitoids. Journal of Economic Entomology 99: 1080-1084