Louis, Joe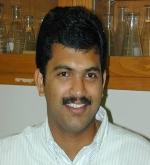 M.S. 2006
joelouis@ksu.edu
Area(s) of Specialization:
Insect Plant Interactions
Bio Brief
"Feeding behavior of the green peach aphid (GPA), Myzus persicae (Sulzers), on Arabidopsis mutants, using electrical penetration graph (EPG) technique"
Recipient of the 'Love of Learning' award from the Phi Kappa Phi honor society, 2007
Recipient of the R.C. Smith Award in Entomology (Masters student), 2007
Recipient of the Don C. Warren Genetics Scholarship Award, 2006
Education
B.S. Agriculture, Kerala Agricultural University, Thrissur, India, 2003
Research
Electronic Monitoring of the feeding behavior of Green Peach Aphid (GPA) - Myzus persicae(Sulzer) - on Arabidopsis plant

Aphids are phloem-feeders that feed on a variety of plants causing extensive damage. In addition, they are the vectors for economically important plant viruses. Efforts to enhance aphid resistance have been hampered by the lack of sufficient knowledge on plant response to aphids. A complex sequence of probing events occurs before an aphid successfully begins to ingest large quantities of phloem sap from sieve element. These include probing, puncturing cells and sampling cell content, and injecting saliva into host tissue. Since the aphid has to reach a sieve element to receive nutrition, blocking any one of these events can prevent the aphid from surviving on the plant. This complex series of events takes place below the surface of the plant where special techniques are needed to quantify behavior.

The compatible interaction between Arabidopsis thaliana and the green peach aphid (GPA) will enable us to successfully monitor the feeding behavior using Electrical Penetration Graph (EPG). Changes in aphid feeding behavior on Arabidopsis mutants will be monitored and quantified using the EPG waveforms with the events during stylet penetration - ingestion, salivation, cell puncturing, etc. This technique will help us to investigate the details of plant resistance to aphids and thus address critical issues in agriculture and food security.

Publications
Diaz-Montano, J., J. C. Reese, J. Louis, L. R. Campbell, and W. T. Schapaugh. 2007. Feeding behavior by the soybean aphid (Hemiptera: Aphididae) on resistant and susceptible soybean genotypes. Journal of Economic Entomology 100: 984-989.
Voolthuluru, P., J.Y. Meng, C. Khajuria, J. Louis, L.C. Zhu, S. Starkey, G.E. Wilde, C.A. Baker and C.M. Smith. 2006. Categories and inheritance of resistance to Russian wheat aphid (Homoptera : Aphididae) biotype 2 in a selection from wheat cereal introduction 2401. Journal of Economic Entomology 99: 1854-1861