Yao, Jianxiu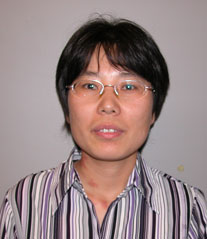 29b W. Waters Hall Manhattan KS 66506 Phone: 785-532-2474 Fax: 785-532-6232
jianxiuy@ksu.edu
Degree Being Pursued: Ph.D.
Publications
Lu, Y., Y.-P. Pang, Y. Park, X. Gao, J. Yao, X. Zhang, and K. Y. Zhu. 2011. Genome organization, phylogenies, expression patterns and three-dimensional protein models of two acetylcholinesterase genes from the red flour beetle. PLoS ONE (under revision).
Khajuria, C., Y. C. Zhu, M.-S. Chen, L. L. Buschman, R. A. Higgins, J. Yao, A. L. B. Cresop, B. D. Siegfried, S. Muthukrishnan, and K. Y. Zhu. 2009. Expressed sequence tags from larval gut of the European corn borer (Ostrinia nubilalis): Exploring candidate genes potentially involved in Bacillus thuringiensis toxicity and resistance. BMC Genomics 10: 286 (1-14).