Holt, Kiffnie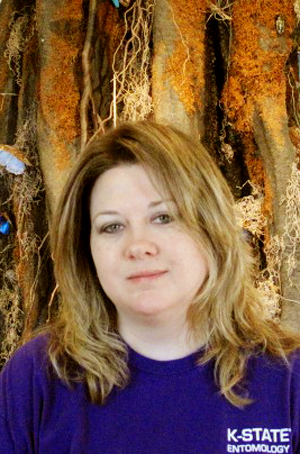 K-State Insect Zoo Coordinator Insect Zoo
Manhattan, KS 66502
Phone: 785-532-2123 kiffnie@ksu.edu
Education
B.S. Marketing/Horticulture, Kansas State University, 2001
M.S. Entomology, Kansas State University, 2005
Research
Developing components of IPM for Twospotted Spider Mite on greenhouse floricultural crops
Potted geraniums and impatiens flats are greenhouse grown floricultural crops which are attacked by many common greenhouse pests including spider mites and thrips. Historically, greenhouse pest control strategies for these crops have been based on calendar sprays of broad-spectrum pesticides. Because these crops are valued solely for their esthetic appearance, there is little tolerance for visible pest damage. In order to sell a commercial grower on an IPM system that includes targeted pesticides and biological control, it must be proved that the system can produce a marketable crop while maintaining a cost comparable to the all-chemical alternative. As part of a multidiciplinary research team, my research relies heavily on sampling plans for both crops that have been developed by other team members. My first objective is to compare a pest management option developed by the team with two other commercially recommended options in terms of efficacy and cost. My second objective is to determine the effect of a thrips-controlling chemical on the long-term populations of twospotted spider mite and the predatory mite Phytoseiulus persimilis.
Publications
Opit, G.P., J. Perret, K. Holt, J.R. Nechols, D.C. Margolies and K.A. Williams. 2009. Comparing chemical and biological control strategies for twospotted spider mites (Acari: Tetranychidae) in commercial greenhouse production of bedding plants. Journal of Economic Entomology 102:336-346.
Holt, K.M., G. Opit, J.R. Nechols, D.C. Margolies and K.A. Williams. 2007. Comparing chemical and biological controls trategies for twospotted spider mites in mixed production of ivy geranium and impatiens. HortTechnology 17: 322-327
Holt, K.M., G.P. Opit, J.R. Nechols, and D.C. Margolies. 2006. Testing for non-target effects of spinosad on twospotted spider mites and their predator Phytoseiulus persimilis under greenhouse conditions. Experimental and Applied Acarology 38: 141-149