Welcome to Entomology!
What Entomology is, and why you should care -
Entomology is the study of insects, but also embraces the study of other Arthropods, including spiders, ticks, and mites. Arthropods are the most diverse and abundant macro-organisms on earth, and have a great impact on us throughout our lives.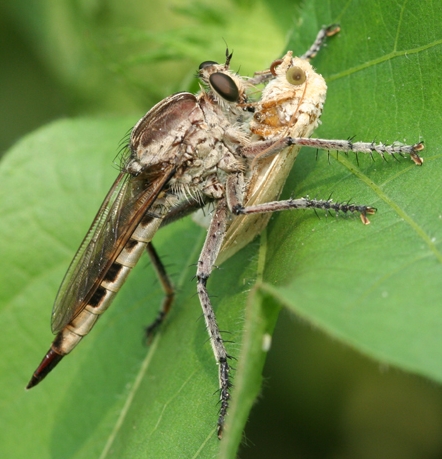 Entomology is a broad science that addresses many relevant issues. We compete with insects for our food, and there is an emphasis in our department on protecting crops from insect attack in the field and after harvest to help provide safe and healthy food to mankind. Arthropods also transmit numerous serious diseases to humans (malaria, Lyme disease, West Nile virus, Leishmaniasis, and many more), and work in our department addresses how transmission occurs and how to stop it to foster global human health. Arthropods provide great insights into our place on the planet and the vast diversity of life and how it developed. Work in our department is addressing the great diversity of Arthropods, and how the myriad life histories have evolved in ecological and historical contexts, helping us know how to protect and conserve our world for generations to come.
General Department Information
---
Noteworthy
Entomology PhD Student Honored With Major Wildlife Award
Shelly Wiggam, PhD student in Entomology (co-advised by Drs. Greg Zolnerowich and Brian McCornack), won the very prestigious 2014 Janice Lee Fenske Award for Excellence in Wildlife Biology. The award honors the late Janice Lee Fenske, a much-beloved fisheries biologist for the Michigan Department of Natural Resources at the time of her untimely death in 2005. She led a life wealthy in accomplishment and betterment of people and the environment, and she was the first female fisheries biologist to work for the Michigan DNR Fisheries Division. She had a deep commitment to and passion for the environment, and for the people with whom she worked. She blazed a clear trail for female wildlife biologists to follow, and was a valued and effective mentor. The award is presented by The Wildlife Society, the North Central Division of The Wildlife Society, the Michigan and Missouri Chapters of The Wildlife Society, and the Midwest Fish and Wildlife Conference. Shelly was selected from among nominees from 13 US states and Canada. The Fenske Memorial Award for Excellence in Wildlife Biology winner is selected based on those attributes that characterized Janice Fenske - the recipient's enthusiasm to conserve and restore wildlife resources through management activities, selflessness and motivation to teach others, interest in professional involvement, and integrity, positive attitude, and compassion. The winner of the Fenske Memorial Award is also selected based on academic ability and scholarly achievements.
Entomology MS Student Ximena Cibils-Stewart Receives National Recognition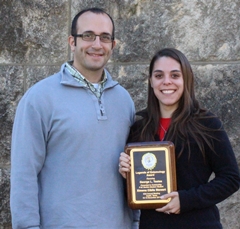 Ximena Cibils-Stewart was recently honored with the 2013 Plant-Insect Ecosystems Legends of Entomology Award for Master Student Achievement at the 2013, 61st Annual Meeting of the Entomological Society of America in Austin, TX. This award recognizes aspiring entomologists who exhibit exceptional potential, and students are selected based on their graduate research project, creative approaches to teaching, exemplary outreach, and service to the discipline. Ximena completed a dual major in Biology and Entomology at Iowa State University prior to starting her degree at Kansas State University in spring of 2011. During her tenure in the Department of Entomology, she has presented her research in local, regional and national venues and receiving accolades for work. Ximena received the Fred Clute Endowed Scholarship from the Department of Entomology in 2012, which recognized her scientific contributions, and more recently received the 2013 O.W. (Spide) Morris Service Award from the department for her exceptional service. In 2013, the Kansas State University Chapter of the Golden Key International Honor Society recognized Ximena as the 2013 Outstanding Graduate Research Assistant of the Year. Her thesis, which she successfully defended in October, titled "Influence of plant architecture on tritrophic interactions between canola, aphids and Hippodamia convergens" is a significant contribution to the scientific literature on plant-insect interactions. She has been a tremendous ambassador for the department and Kansas State University and is well deserving of this recognition. Ximena is graduating with her MS degree in Entomology in December, 2013. Ximena is advised by Dr. Brian McCornack (Department of Entomology). McCornack had the privilege of introducing Ximena prior to her accepting the award and was recognized by the Plant-Insect Ecoystems Section of the Entomological Society of America for his outstanding student mentoring.
Dr. John Reese Named a 2013 Fellow of the American Association for the Advancement of Science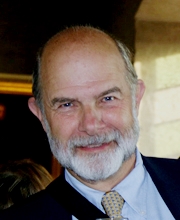 Dr. John Reese, Professor of Entomology at K-State, was selected as a Fellow of the prestigious American Association for the Advancement of Science (AAAS), the world's largest scientific organization (the official announcement is here). He was selected for distinguished contributions to entomological sciences, particularly in the fields of plant-insect interactions and plant resistance to insects. Dr. Reese's research focuses on plant resistance to insects. He specializes in aphid salivary enzymes in insect-plant interactions, functionality of genes in aphid salivary glands, plant resistance to aphids and plant tolerance to aphid feeding damage. Dr. Reese has published more than 120 peer reviewed journal articles. This is a singular honor, with Dr Reese joining another member of our department, Dr. Kun Yan Zhu (2012 Fellow), as 2 of only 19 AAAS Fellows at Kansas State University. Congratulations, John!
Dr. Raul Guedes Receives 2013 Distinguished Alum Award From Department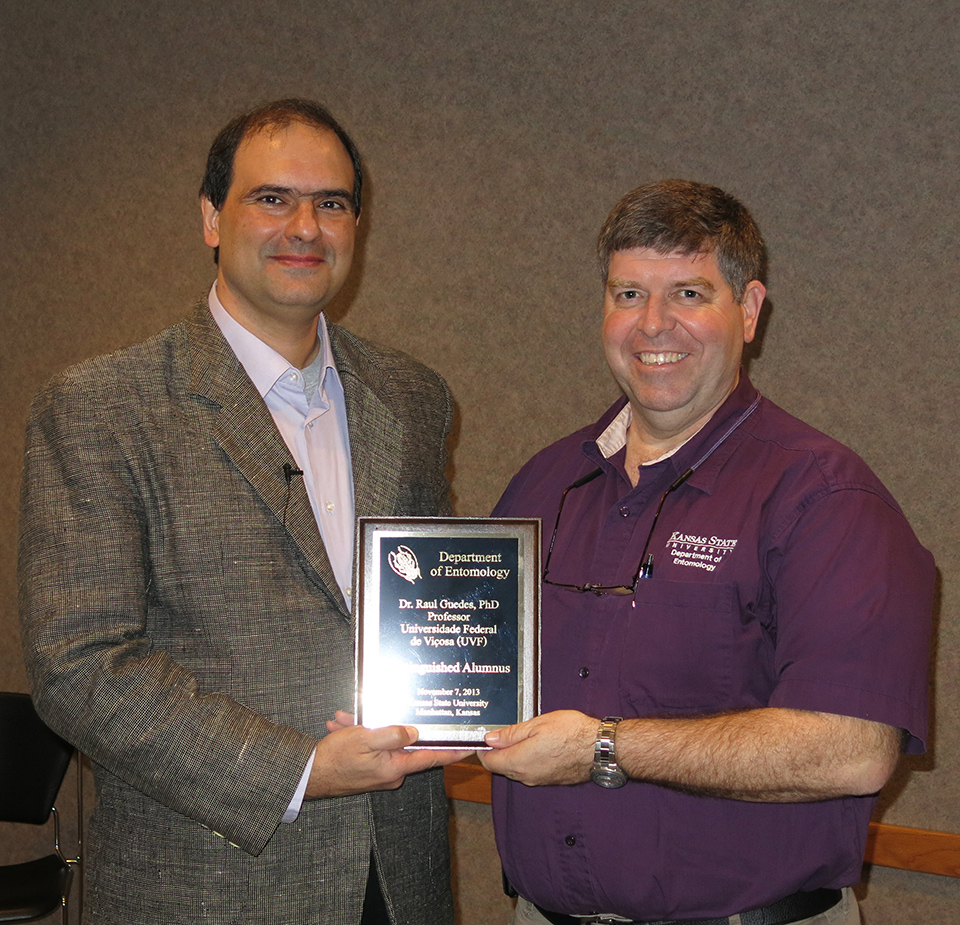 Dr. Raul Guedes (pictured, left in image receiving the award from Department Head John Ruberson), who received his PhD in 1997 under the co-direction of Drs. Srini Kambhampati and Kun Yan Zhu, was presented with the 2013 Distinguished Alum Award from the Department of Entomology on Thursday, 7 November 2013. Dr. Guedes has had a very successful career at the Federal University of Viçosa, the top-ranked agricultural university in Brazil. He has built a strong international reputation in pesticide-arthropod interactions, stored product pests, insect communications, and arthropod ecophysiology. An author on 133 refereed journal articles and 12 book chapters, he has trained 11 PhD and 18 MS students, and is currently directing 4 MS and 3 PhD students. He is currently supporting 2 postdoctoral researchers, and has previously directed 6 others. He is also serving as the Scientific Director of the Arthur Bernardes Foundation (Research Foundation of the Federal University of Viçosa) and is a Fellow of the Royal Entomological Society. He presented an excellent seminar on Thursday, 7 November, entitled "Insecticides in insects: Too Much of a Good Thing ....?". The seminar video is available by clicking here or on the picture at left.

Entomology PhD Student Barbara Amoah Receives National Honor
Barbara Amoah recently was awarded a "Love of Learning" Award of $500 by the Honor Society of Phi Kappa Phi - the nation's oldest and most selective collegiate honor society for all academic disciplines. She was one of 147 recipients of the award nationwide across all disciplines. Barbara is a member of the the Kansas State University chapter of the Society. The Phi Kappa Phi Love of Learning Award was initiated in 2007 to help fund graduate or professional studies, doctoral dissertations, continuing education, career development, and travel related to teaching and studies for active Society members. Barbara came to Kansas State University from Ghana. Congratulations, Barbara!
Dr. Brian McCornack and Team Garner National Australian Award
KSU Assistant Professor of Entomology Brian McCornack is part of the Global CSI Team, with Jonathan Marshall of Bondi Labs (Australia) and others, that has been awarded the 2013 Inclusive Innovators Challenge sponsored by the Business for Millennium Development (B4MD), an Australia-based not-for-profit organization. B4MD invited teams from leading institutions, companies, and NGOs throughout Australia to compete at the Australian Business Congress in Sydney, Australia, in August 2013 to pitch new inclusive business concepts – scalable, commercially viable ways of working with low-income people to develop communities. This 2-day event attracted over 1100 senior corporate professionals who were seeking new ways to grow or reinvent their businesses. The team's "Plant Doctor Game" was selected based on its ability to meet Millennium Development Goals. The Plant Doctor Game is an educational video game (serious game) that will be playable on low-end mobile devices and is designed to develop and improve core plant health diagnostic skills of agricultural extension workers in developing countries. Initially, the game is intended to complement the current face-to-face plant-doctor training program but is moving towards scalable, comprehensive training modules. Through this award BM4D will offer their services to help the Global CSI team to develop their business model and leverage their global network as the team continues development of the serious game. Congratulations, Brian!
---
---
Departmental Values
The Department of Entomology has an excellent, highly-ranked faculty committed to research, teaching, and extension in diverse contemporary disciplines related to entomological science. Kansas State University is a major research institution which also places high value on its teaching and extension programs. The university is located in Manhattan, within the scenic Flint Hills Region. Read More.