Welcome to Entomology!
What is Entomology and why should you care?
Entomology is the study of insects, but also embraces the study of other Arthropods, including spiders, ticks, and mites. Arthropods are the most diverse and abundant macro-organisms on earth, and have a great impact on us throughout our lives.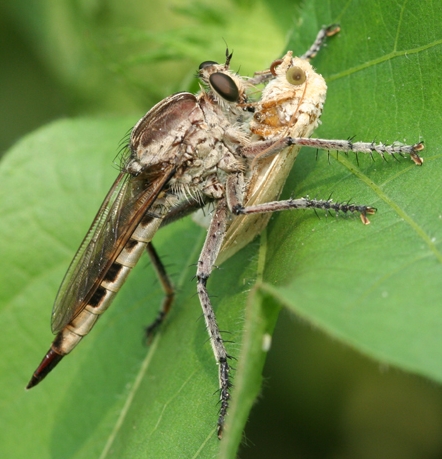 Entomology is a broad science that addresses many relevant issues. We compete with insects for our food, and there is an emphasis in our department on protecting crops from insect attack in the field and after harvest to help provide safe and healthy food to mankind. Arthropods also transmit numerous serious diseases to humans (malaria, Lyme disease, West Nile virus, Leishmaniasis, and many more), and work in our department addresses how transmission occurs and how to stop it to foster global human health. Arthropods provide great insights into our place on the planet and the vast diversity of life and how it developed. Work in our department is addressing the great diversity of Arthropods, and how the myriad life histories have evolved in ecological and historical contexts, helping us know how to protect and conserve our world for generations to come.
General Department Information
---
Noteworthy
Scholarship Winner, Maricela Robles-Murguia, Meets Donor, Floyd Holmes, at College of Agriculture Scholarship Brunch
Maricela Robles-Murguia (left), PhD student with Dr. Marcelo Ramalho-Ortigao, met with Alum Floyd Holmes at the Scholarship Brunch on 4 May 2013. Maricela was the winner of the Floyd Holmes Scholarship, and had the opportunity to have brunch with Mr. Holmes himself. Mr. Holmes earned both his BS and MS from K-State in Entomology and went on to a long and very successful career, serving during World War II in the Army's medical entomology group in the Pacific, and subsequently in industry, where he had a wide range of experiences and was involved in building the foundation for many modern insect control technologies. He has kindly shared his success with rising generations of students as a very generous donor to the department for many years, and is greatly committed to Entomology students and their success. Thank you, Mr. Holmes, and congratulations Maricela!
Ruth Nihart Honored for 15 Years of Service to KSU Entomology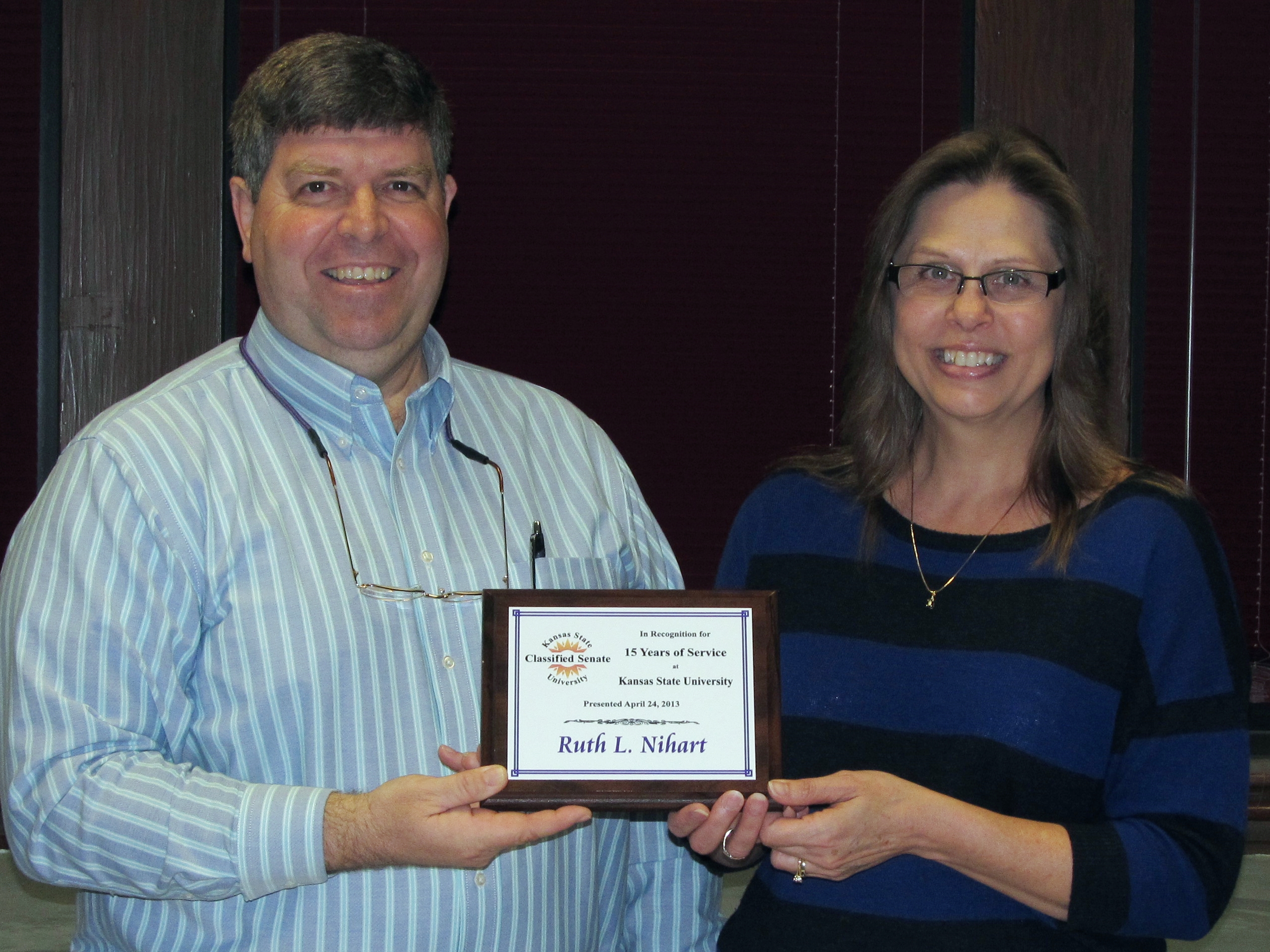 Congratulations to Ruth Nihart for 15 years of committed and high-quality service to the KSU Department of Entomology as an accounting specialist. She was presented her plaque by Department Head, John Ruberson (left in image). Ruth does an excellent job in the department, and is a great member of our outstanding office team. We are very fortunate not only that she works with us, but that she has done so with a great deal of professionalism and pride in her work. Here's to many more great years to come!
Entomology Student Selected as K-State Outstanding GRA of the Year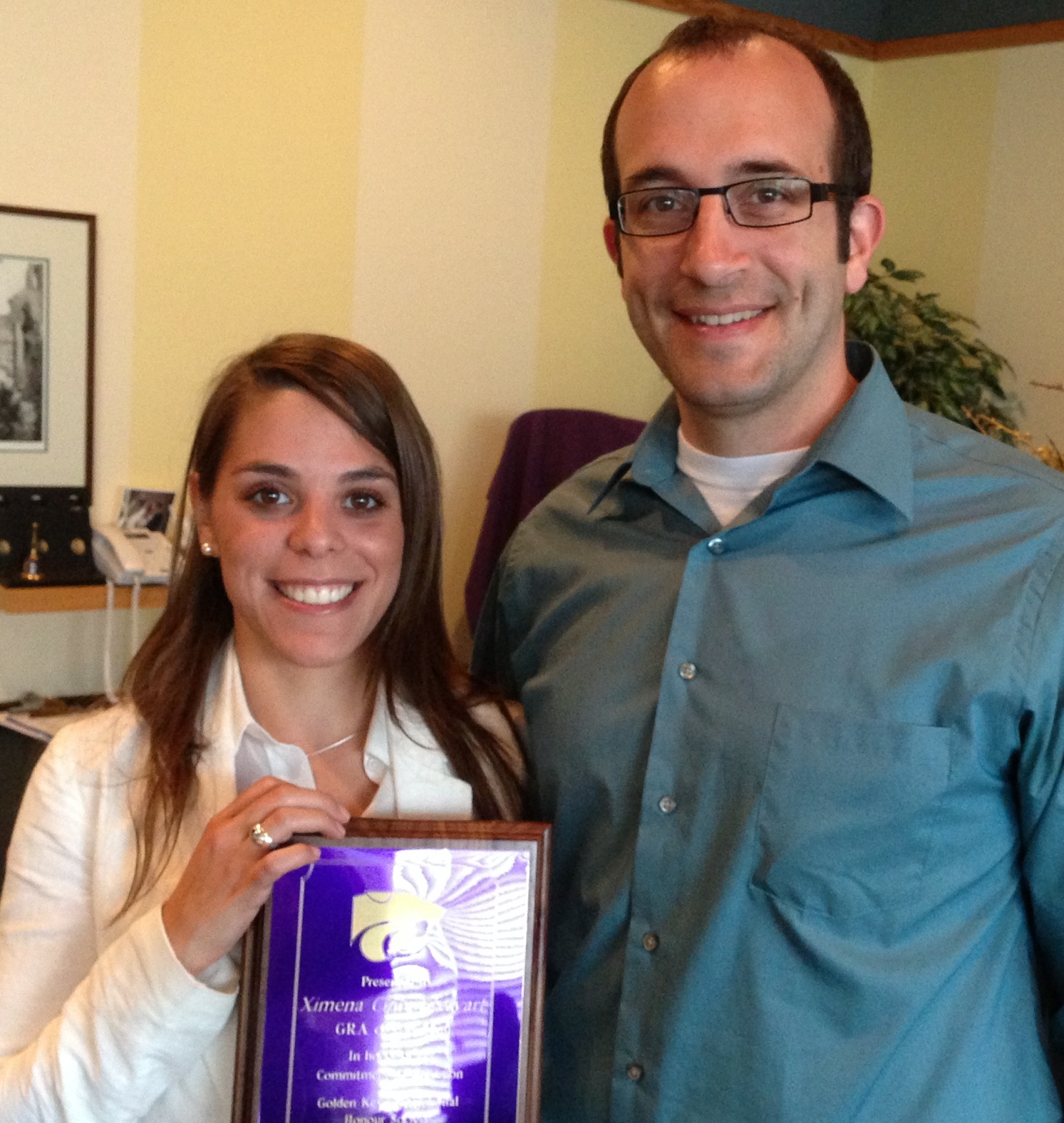 Congratulations to Entomology graduate student Ximena Cibils Stewart! Ximena, who is working on her MS degree, was selected as the outstanding Graduate Research Assistant of the Year for Kansas State by the Golden Key International Honour Society! The award was presented to her in a special awards event hosted by Golden Key on 21 April 2013. Quite an honor, and very well deserved. Here she is with her plaque, and her major professor Brian McCornack. Great job!
Student Scholarship and Three-minute Thesis Winners Presented

The winners of the 2013 student scholarships and the Three-minute Thesis competition are available here. Congratulations to all of the winners!

Dr. Yoonseong Park wins 2013 KSU College of Agriculture Excellence in Graduate Teaching Award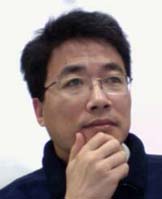 Yoonseong Park was selected as winner of the 2013 KSU College of Agriculture's Excellence in Graduate Teaching Award. The purpose of this award is to recognize one faculty member each year for excellence in graduate teaching performance and in related functions, such as advising and mentoring. He has done an exceptional job in training students in the laboratory and classroom, and the honor is well-deserved. Congratulations, Yoonseong!
Kiffnie Holt, Insect Zoo Coordinator, Wins 2013 President's Award of Excellence for Unclassified Professionals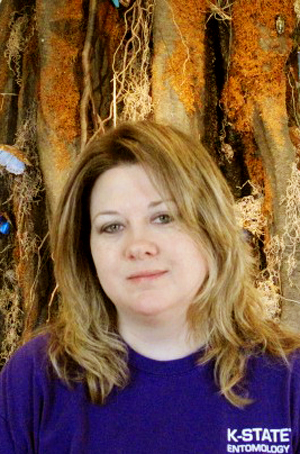 Kiffnie Holt, who directs the Insect Zoo at Kansas State University, was selected as the winner of the 2013 President's Award of Excellence for Unclassified Professionals in the area of Productivity/Creativity/Innovation! These awards are highly competitive, and her selection speaks volumes about the quality of her work at the Insect Zoo. She will be presented with her award formally later in the spring. Congratulations, Kiffnie!
Two Entomology Graduate Students take 2nd Place Honors at K-State Research Forum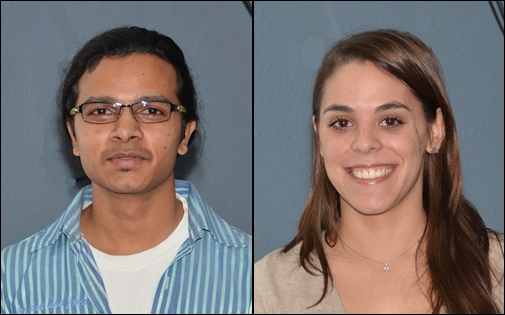 Graduate students Ximena Cibils Stewart (right) and Dinesh Erram (left) did the department proud at the K-State Research Forum held on campus on 27 March 2013. Ximena placed 2nd in the oral presentation competition of the Agricultural Sciences section, and Dinesh placed 2nd in the poster competition of the Biological Sciences section. Congratulations to both of them! Alice Harris and Predeesh Chandran also presented posters in the competition, and although they didn't place, their posters looked good! Great work!
College Teaching Award for Dr. Greg Zolnerowich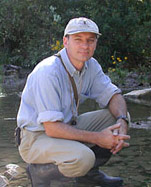 Dr. Z., Greg Zolnerowich, has won the Kansas State University College of Agriculture David J. Mugler Outstanding Teacher Award for 2013! He can add that to his other teaching awards, including the K-State Presidential Award for Excellence in Undergraduate Teaching in 2012. Congratulations, Greg!
Welcome to our new Assistant Professor, Sarah Zukoff!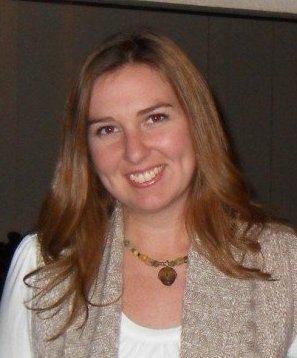 Sarah Zukoff has joined the Department of Entomology and is located at the Southwest Research and Extension Center in Garden City. Her dual role in extension and research focuses on pests of corn and other field crops, including the management of the western corn rootworm, spider mites, and southwestern corn borer. Recently, Sarah received her Ph.D. in Plant, Insect, and Microbial Science (entomology emphasis area) from the Plant Science Division at the University of Missouri. Her work there focused on western corn rootworm resistance management including the potential for cross resistance between Bt products and the potential role of feeding behavior in resistance. Dr. Zukoff received her Bachelor's and Master's degrees from Georgia Southern University where she documented over 90 species of other insects and spiders living with the subsocial spider Anelosimus studiosus. Her work also led her to the discovery of an interesting behavior of the southeastern beach tiger beetle (Cicindela dorsalis media), the first documented case of wind powered wheeling locomotion. In her free time, Sarah enjoys hiking, camping and photographing nature with her husband, Anthony. We are pleased to have them joining our department!
---
---
Departmental Values
The Department of Entomology has an excellent, highly-ranked faculty committed to research, teaching, and extension in diverse contemporary disciplines related to entomological science. Kansas State University is a major research institution which also places high value on its teaching and extension programs. The university is located in Manhattan, within the scenic Flint Hills Region. Read More.