Welcome to Entomology!
What Entomology is, and why you should care -
Entomology is the study of insects, but also embraces the study of other Arthropods, including spiders, ticks, and mites. Arthropods are the most diverse and abundant macro-organisms on earth, and have a great impact on us throughout our lives.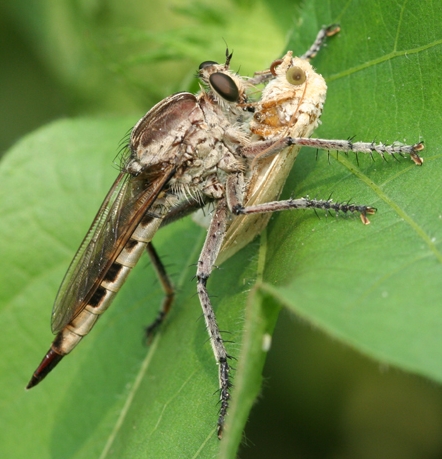 Entomology is a broad science that addresses many relevant issues. We compete with insects for our food, and there is an emphasis in our department on protecting crops from insect attack in the field and after harvest to help provide safe and healthy food to mankind. Arthropods also transmit numerous serious diseases to humans (malaria, Lyme disease, West Nile virus, Leishmaniasis, and many more), and work in our department addresses how transmission occurs and how to stop it to foster global human health. Arthropods provide great insights into our place on the planet and the vast diversity of life and how it developed. Work in our department is addressing the great diversity of Arthropods, and how the myriad life histories have evolved in ecological and historical contexts, helping us know how to protect and conserve our world for generations to come.
General Department Information
---
Noteworthy
Entomology Professor C. Michael Smith Selected as 2014 AAAS Fellow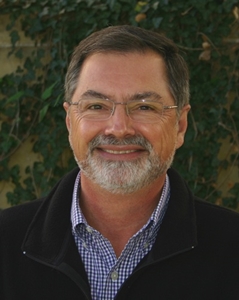 Dr. Mike Smith was one of two KSU faculty to be selected as a 2014 Fellow of the American Association for the Advancement of Science (AAAS). This is a singular honor, adding to Mike's previous selection as a Fellow of the Entomological Society of America. You can find the official announcement here: http://www.aaas.org/news/new-aaas-fellows-recognized-their-contributions-advancing-science. Mike joins fellow KSU entomologists Kun Yan Zhu and John Reese among the ranks of the 21 AAAS Fellows on campus. Congratulations, Mike!
KSU Entomology Debate Team Wins Head-to-head Debate at 2014 ESA Meeting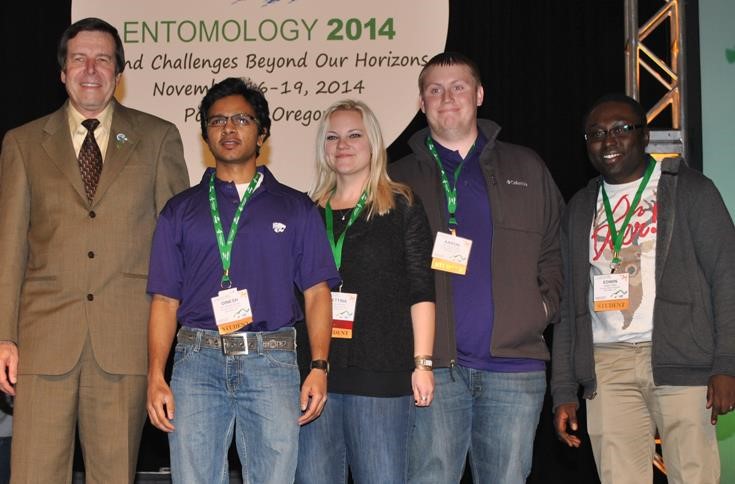 The KSU Entomology Debate Team won their head-to-head debate against FAMU at the annual meeting of the Entomological Society of America in Portland, defending the value of transgenic mosquitoes for reducing malaria cases. In the picture, the team is with ESA President Frank Zalom (far left) after being declared winners of their head-to-head debate. The team members are (from right): Edwin Afful (working with Tom Phillips), Aaron Cato (also with Tom Phillips), Bettina Jancke (working with Jeremy Marshall), and Dinesh Erram (working with Ludek Zurek). Congratulations on an excellent performance! The team was co-coached by David Margolies and John Ruberson.
KSU Entomology Students Earn Awards at 2014 Annual Meetings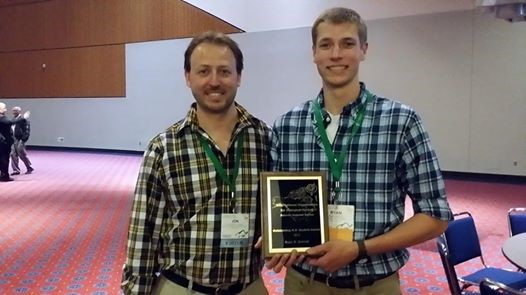 Entomology graduate students Barbara Amoah and Jamie Aikins (both working with Tom Phillips) both took second place in the PBT section poster competition at the annual meeting of the Entomological Society of America in Portland. Great work, Barbara and Jamie! KSU Entomology grad student Ryan Schmid (right in picture; working with Brian McCornack) won the International Organization for Biological Control Nearctic Region Section's Outstanding MS Student Award at the IOBC meeting in Portland. Also shown is Ryan's MS mentor and IOBC-NRS president Jonathan Lundgren. Congratulations, Ryan!
Entomology Professor Kun Yan Zhu Receives Two Major Recognitions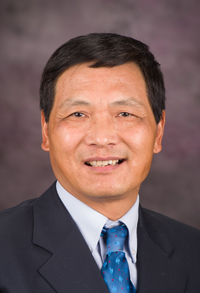 The Entomological Society of America announced the 2014 ESA Fellows (details here:
http://entsoc.org/press-
releases/esa-recognizes-2014-fellows
) and Kun Yan Zhu was among those selected. Kun Yan joins Mike Smith who was previously named an ESA Fellow. With that award Kun Yan is now a Fellow of both the American Association for the Advancement of Science and the Entomological Society of America.
Kun Yan also received another significant accolade – he was named one of two Commerce Bank Distinguished Graduate Faculty awardees for 2014-15 by the K-State Graduate School. The only previous winner from our department is Ted Hopkins in 1995, so Kun Yan joins very good company. The Distinguished Graduate Faculty Award is made annually to those faculty who have distinguished themselves nationally and internationally for excellence in research and graduate education. Kun Yan will be specially recognized during the fall Graduate School commencement ceremony and will deliver an address to the campus community.


Congratulations, Kun Yan, on two well-deserved awards!


---
---
Departmental Values
The Department of Entomology has an excellent, highly-ranked faculty committed to research, teaching, and extension in diverse contemporary disciplines related to entomological science. Kansas State University is a major research institution which also places high value on its teaching and extension programs. The university is located in Manhattan, within the scenic Flint Hills Region. Read More.