4H Entomology - We Know Bugs
Welcome to the Entomology
4H and Youth web page!
New Classes for Entomology Project
We have developed some new classes for the Entomology Project called entomology collection notebooks. The idea is for 4-Her's to take pictures of insects and make a notebook to display their work. We hope the project will be attractive to kids that like to study insects, but don't have the ability or desire to collect and pin the specimens. The notebooks can be a substitute or an addition to the standard insect collections or educational displays. Requirements for the classes are in the following document: Entomology Collection Notebooks.
2012 Insect Spectacular Workshop and Collection Trip
Beetles, bugs, dragonflies and more! Was the title for the 2012 Insect Spectacular. This was the 20th year for the Entomology workshop. This year's event was hosted by Vicky Wallace in Pawnee County at the J.A. Haas Exhibit Building in Larned, Kansas from June 29 -July 1.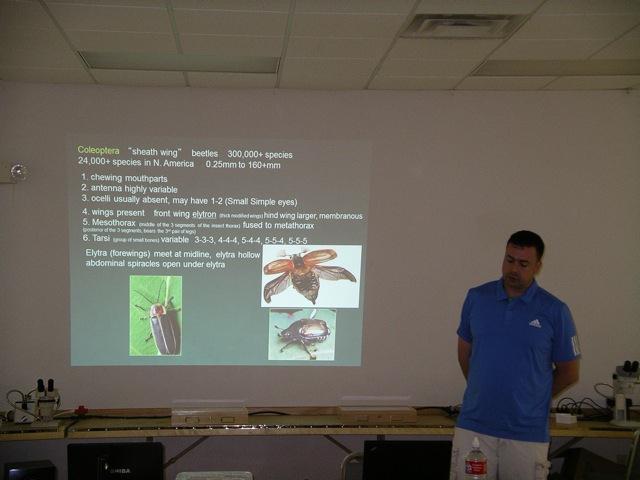 Matt Sellner a K-State Graduate Student gave a presentation on Coleoptera.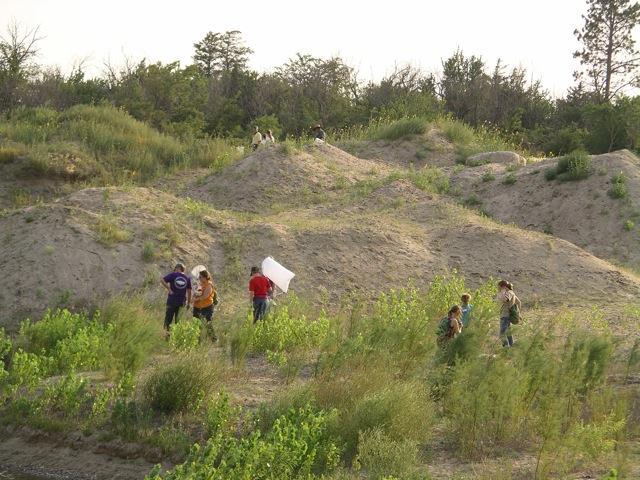 Participants got a chance to visit local sand pits and pastures to collect insects.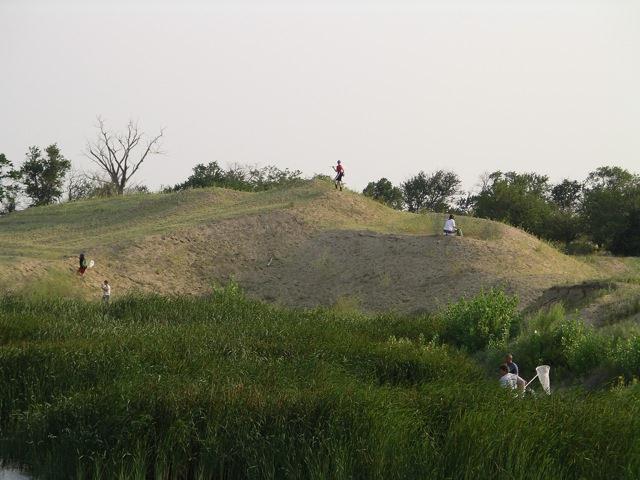 Plus a chance to several other presentations and educational activities.
Special thanks to Vicky for Another great year.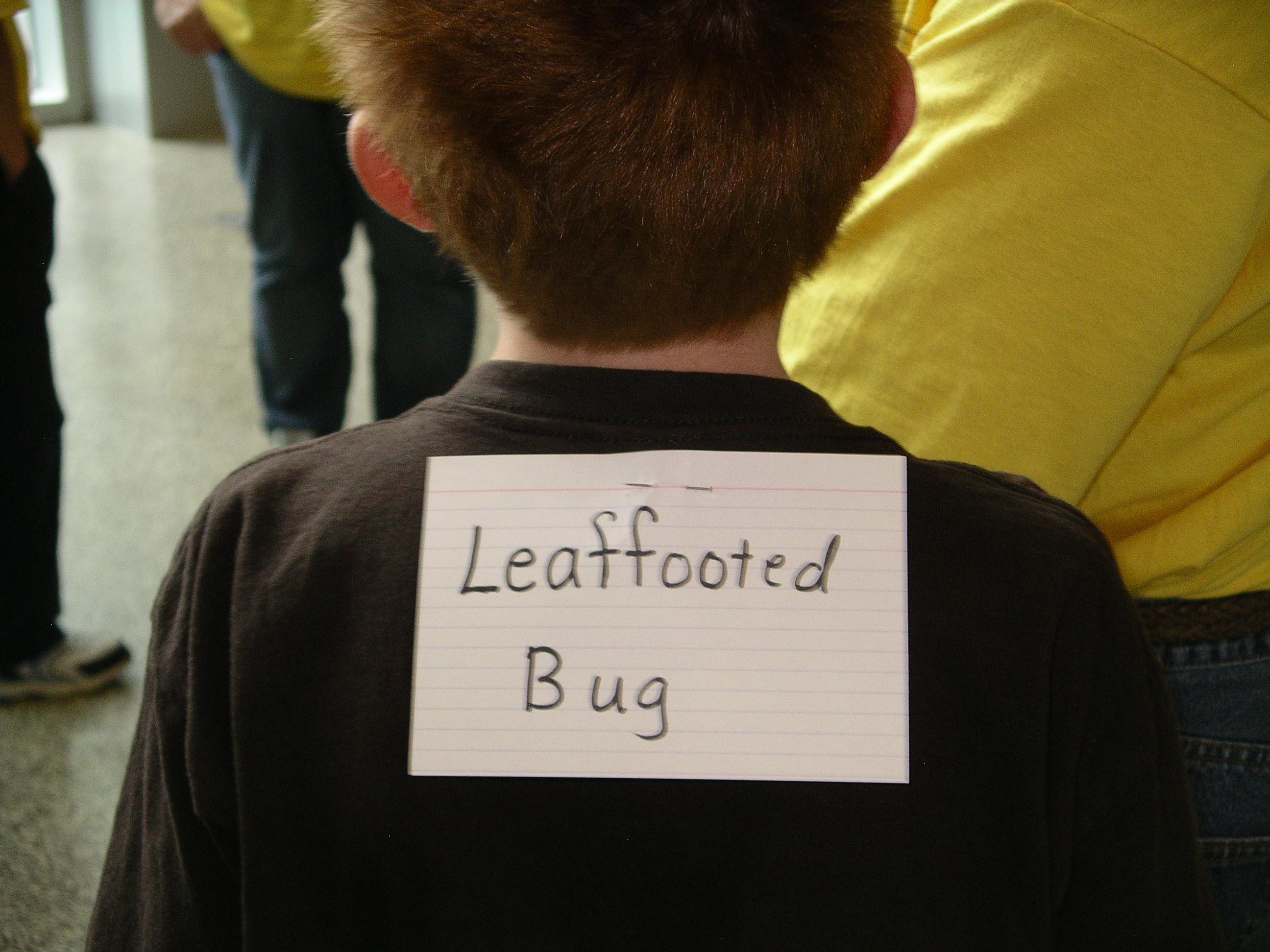 Mixer -- ask questions to determine what bug name was on your back. What kind of mouth parts do I have? What kind of legs do I have?
Ninety-two 4-Hers, parents, leaders, and specialists from fifteen counties across the state of Kansas gathered in Olathe KS. June 24 and 25 to participate in the nineteenth annual Insect Spectacular State 4-H Entomology Workshop. Activities Friday evening and throughout the day Saturday included games, skill building exercises, leadership training activities, and instructional classes all geared toward teaching participants how to make an insect collection and on educating them on the importance of insects to the ecology and economy of our world.
The Johnson County Extension Foundation was instrumental in helping to bring the Workshop to Johnson County this year. The Foundation provided funds to help purchase supplies and educational items and helped reduce the registration cost for each participant. Karen Zimmerman and Arnold Eccles, Johnson County 4-H Leaders, and their families were liaisons with Pawnee County Entomology Leader Vicky Wallace and Pawnee County Extension Agent Rodney Wallace. They helped prepare information for the Foundation and for the workshop activities. They also made needed reservations and emergency preparedness plans to help the workshop run safely and smoothly.
Luke Pfannenstiel, Saline County, and Hannah Williams, Sedgwick County, taught two classes on Insect Educational Displays. These 4-Hers showed those in attendance examples of displays and talked about how to make them. They also gave tips on how this type of exhibit is judged for competition.
McPherson County 4-Her Max Harman talked to the group about Monarch Butterflies. Using a power point presentation, Max demonstrated the butterfly's migration habits and life cycle. Following Max's presentation, everyone enjoyed a game of Monarch Migration. This helped to reinforce the information they had just received from Max.
Matt Sellner, a Graduate Student from Kansas State University, taught two classes on Hymenoptera Identification. This was one of the classes for more experienced 4-hers and their parents. Matt had specimens to view under the microscope as well as a great power point presentation. Students saw first hand what body parts or markings to look for to help identify bees, wasps, and other insects belonging to the order Hymenoptera.
An insect jewelry class was a new addition this year. The children each made a leather friendship bracelet or neck lanyard. They chose a butterfly or dragonfly shape and then painted it. The shape was then glued to the back. Ty O'Neill, Pawnee County 4-H Junior Leader taught the class.
Another new class addition this year was a class on Insect Photography. Pawnee County 4-H Leader Shana O'Neill taught persons in the class some photography basics. Then they tried out their skills in the gardens by the Johnson County Extension Office that are maintained by the Master Gardeners.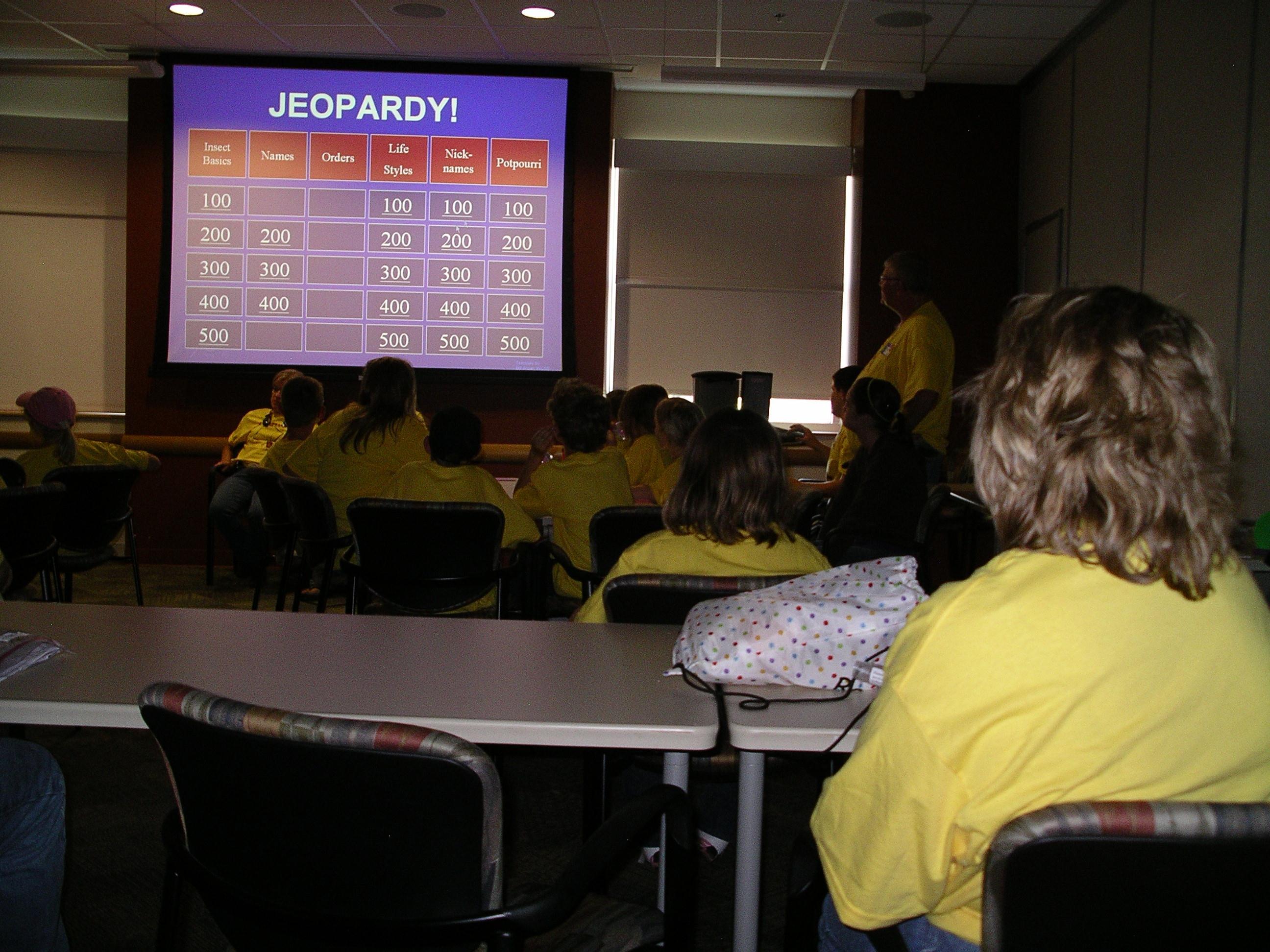 Insect Jeopardy challenged all participants to pick their brains and beat the buzzer. Categories for the competition included Insect Basics, Names, Orders, Nicknames, Life Styles and Potpourri. Two separate groups with two teams in each group let everyone join in the fun. Shana O'Neill and Vicky Wallace, Pawnee County, were the MC's and kept the games on track while Rodney Wallace and Matt Seeley, Pawnee and Johnson County Extension Agents, used their technical skills to keep the electronic
Insect Spectacular equipment running smoothly.
Rodney also taught a class on 4-H Record Books. Though not one of the most popular classes, record keeping is an important life skill taught by the 4-H program. 4-Hers and parents learned about keeping a calendar of 4-H events to help keep track of items to be put in the record book.
The classes on Pinning Insects and Arrangement and Display were taught by Vicky. These are hard things for 4-Hers new to the project to learn. They require a certain amount of muscle development and a lot of patience. Vicky stressed to the parents that the kids needed to work on these skills for short periods of time and then take a break.
Two collection trips to Shawnee Mission Park got everyone outside. As everyone split up to scout the wildlife area, shouts of excitement were heard as many different insects were netted to be added to collections. Among the insects caught were longhorn beetles, dragonflies, Firefly Beetles, grasshoppers, swallowtail butterflies, bee flies, Dogbane Beetles, Snowberry Clearwing Moths, and scarab beetles.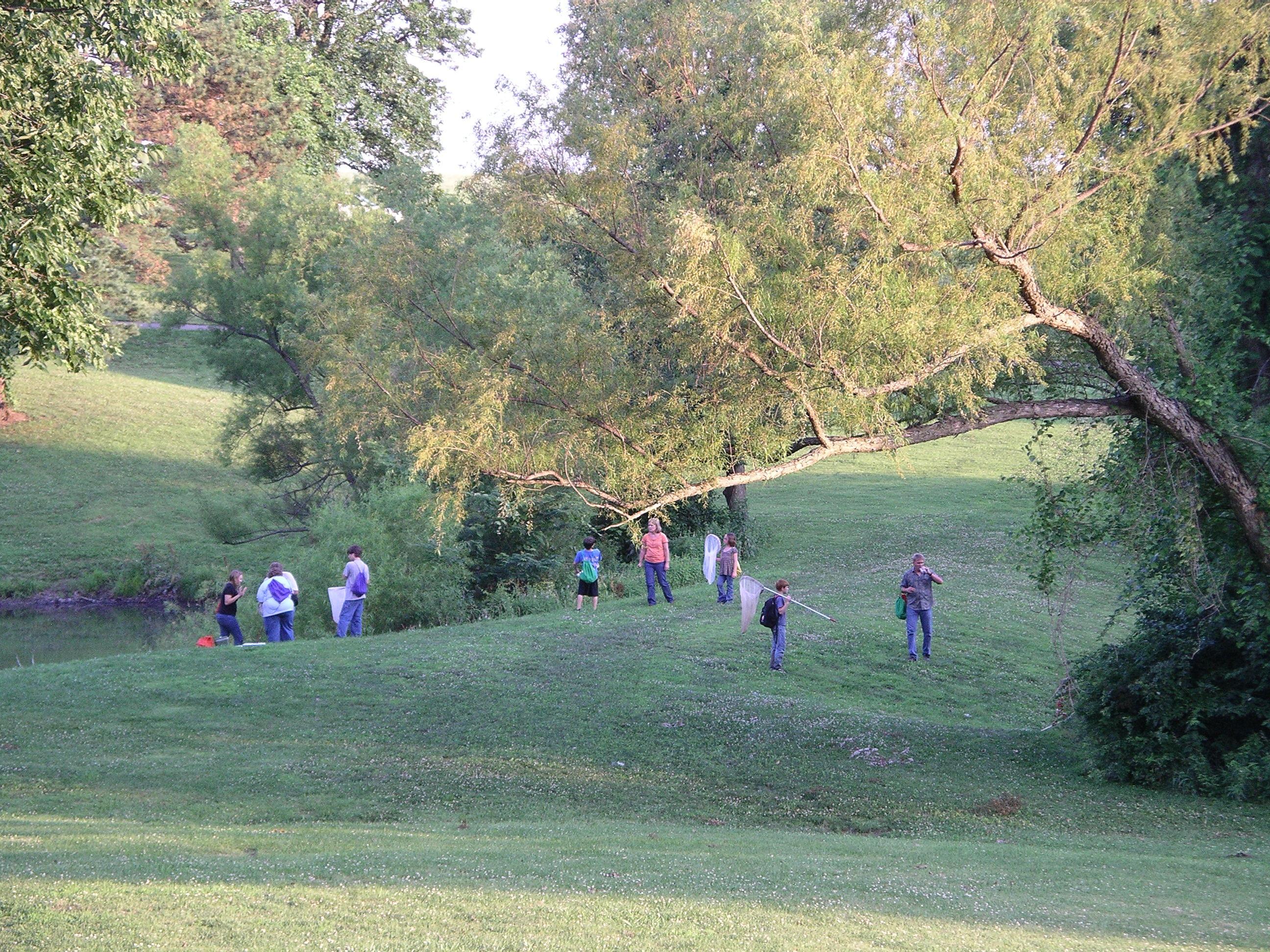 Vicky Wallace
1001 W. 7th
Larned, Kansas 67550
Phone: (620) 285-6231 hm
(620) 804-9170 cell
Butterfly fans who want to attract the flamboyant insects into a backyard setting or simply to conserve them in nature have rapidly been increasing in numbers for at least a decade. "That's fit nicely with a growing trend toward using insecticides only when absolutely necessary. Bees and butterflies both are benefiting from that," horticulturist Ward Upham said. "But, I suspect some people have been surprised, if not discouraged, by how complicated the whole subject of butterflies is." Fortunately, several outstanding Web resources are available now to help butterfly fans find the localized information they need, Upham added. Finding and sharing the word about such resources is part of his job as Master Gardener program coordinator for Kansas State University Research and Extension. (click on the title of this article for more information).

2009 Insect Spectacular Entomology Workshop
J. A. Haas Exhibit Building, Larned, KS
Saturday, June 27
For more details Click HERE
They creep . . . they crawl . . . they fly . . . many of them bite or sting. At Kansas State University´s Insect Zoo, they´re also the stars of the show. Many U.S. universities have collections of insects that travel to schools for presentations. But, Kiffnie Holt, K-State zoo coordinator, isn´t aware of any other permanent exhibits.
The zoo is housed in the old dairy barn on the northwest corner of the K-State campus, down the street from Throckmorton Hall. Visitors can view a wide variety of insects, arachnids and even some aquatic life there. The exhibits include large framed collections of native insects and the requisite "butterfly collection." There´s even a live honeybee colony, encased in plexiglass.

But, the centerpiece of the zoo is a leafcutter ant colony, housed in part of a dividing wall that bisects the museum floor. Toward the front of that wall is a terrarium, regularly stocked with tree branches, debris and small pieces of fruit. A long stretch of clear tubing connects the ants´ two living areas. Holt believes the display is easily the zoo´s most popular.
The zoo is open noon to 6 p.m., Tuesday through Saturday, and it charges a small admission fee.
"On many of the days that people might expect us to be closed, we´re actually open," she said. "You can find out the holidays when we´re open to visitors by checking our Web site."

That site, which include "fun links," on-site photos and information on scheduling guided tours, is at http://www.k-state.edu/butterfly.
Educational Materials Website - http://www.cipm.info/entfnd/
The Entomological Foundation (http://www.entfdn.org) of the Entomological Society of America has developed a web site that contains learning activities designed to help children in grades 3 and 4 understand primary areas of entomology relating to the characteristics of organisms, life cycles, and the relationship of organisms to their environment. Each section contains a set of activities and objectives with an assessment (in game format) of what the user learned from the activities. Each section also contains a section for educators, which lists the objectives and the national science standard and entomology benchmark addressed by each activity.
Publications
4-H Entomology: Collecting and Exhibiting, 4-H 829
Entomology Member Guide and Annual Report, MG47
Links to other 4-H entomology publications
Other References
Butterflies in Kansas: This slick cardstock wheel has two layers. Around the rim, it shows the state's 16 most common butterfly species as adults. Cutouts in the smaller top layer rotate to reveal pictures of the caterpillar and cocoon (pupa) that go with each adult. The wheel also includes the butterflies' common and scientific names, as well as the plants each caterpillar prefers, interesting facts, and Web site addresses for more information. butterfly wheel order form
Insects in Kansas. Information on how to order the book "Insects in Kansas"
Collection Kits- sold by the Kansas State University Entomology Club. Master list and order information available at http://entomology.k-state.edu/for-students/popenoe-entomology-club/ffa.html.
Other Sites of Potential Interest
4-H Cooperative Curriculum System Entomology Project Materials (Insectaganza) Three entomology activity guides and a helpers guide explore the amazing world of insects including their arthropod relatives.
Common Names of Insects and Other Related Organisms (A database by the Entomological Society of America)
Caught On the Web (Links to additional information of interest to young entomologists)
_________________________________________________
(You may need Adobe's Acrobat Reader to view some of these files. You can download it at http://www.adobe.com/products/acrobat/readstep2.html)
Related Links