Sorghum Insects
Sorghum Webworm, Celama sorghiella.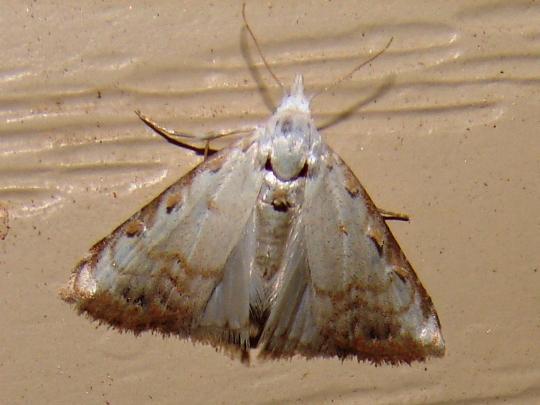 Adult moth
Larva on sorghum head.
This problem is usually confined to southeast Kansas. The damage is caused by small, fuzzy, striped worms that feed in developing seeds. The worms appear to prefer varieties with compact heads. There are several overlapping generations, and damage tends to be more severe in late planted fields. Larvae are active from August to October. Infestations do not injure mature seed. Hot, dry weather contributes to natural mortality. Controlling or keeping Johnsongrass mowed is recommended because it serves as a reservoir for this pest. Stubble destruction can reduce populations of overwintering larvae. Kansas growers should begin scouting fields by mid-August and consider treatment where infestations average five or more worms per head during the early post-bloom period.
Please refer to the most recent version of the Sorghum Insect Management Guide for specific control recommendations.
Page last updated on 10/31/2013 by J.P. Michaud.