Zolnerowich, Gregory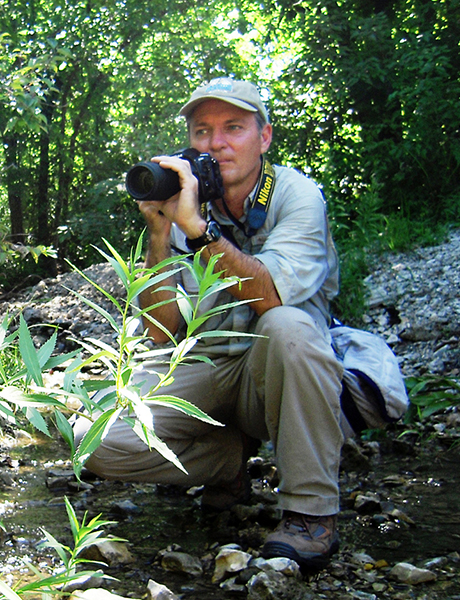 Professor
232 Waters Hall
Manhattan KS 66506
Phone: (785) 532-3799
Fax: (785) 532-6232
E-mail: gregz@ksu.edu
Systematics and phylogenetics of parasitic Hymenoptera, systematics in support of biological control, and biodiversity of prairie insects
Education
B.S. Biology, Midwestern State University, Wichita Falls, TX, 1980
M.S. Biology, Midwestern State University, Wichita Falls, TX, 1983
Ph.D. Entomology, Texas A&M University, College Station TX, 1995
Teaching
Insects and People (ENTOM 301)
General Entomology (ENTOM 312)
General Entomology Laboratory (ENTOM 313)
Insect Taxonomy (ENTOM 710)
Immature Insects (ENTOM 840)
Scanning Electron Microscopy (ENTOM 850)
Insect Morphology (ENTOM 866)
Research
Systematics research involving three graduate students is in progress. The first project, conducted by Cameron Allen, is an M.S. revision of Eleale (Coleoptera: Cleridae) a genus found in Australia. The second is Ph.D. research by Alan Burke on the systematics of the subfamily Tillinae (Cleridae) that includes a phylogenetic analysis of the subfamily and a revision of eight genera. The work on Tillinae is a precursor to post-graduate work on the very speciose genus Cymatodera. Both clerid projects are the first ever revisions and phylogenetic analyses of those groups. The third project, by Shelly Wiggam and co-advised with B. McCornack, is a Ph.D. project on the movement of pollinators in patch burn grazing compared to annually and never burned grazing management systems. This work has implications for a major land management practice, and how that practice affects conservation and prairie restoration. A checklist of 404 species of Noctuoidea found in the northern Flint Hills is near completion and will be a major contribution to our knowledge of that large group.

I am also the curator for the KSU Museum of Entomological and Prairie Arthropod Research (KSU-MEPAR). The museum contains approximately 340,000 insect and arthropod specimens, with 47,530 specimens added since 2000. Databasing of specimens is in progress, with 320,000 insect specimens representing 15,341 taxa from 106 countries databased thus far. Our biodiversity web portal with search functions, images, literature, and teaching resources is available at: Biodiversity Information System
Lab and Museum Students & Staff

Cameron Allen and Alan Burke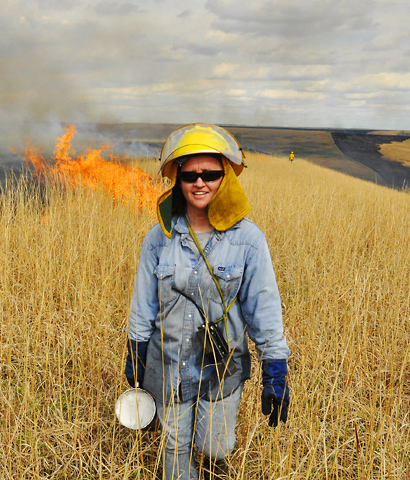 Shelly Wiggam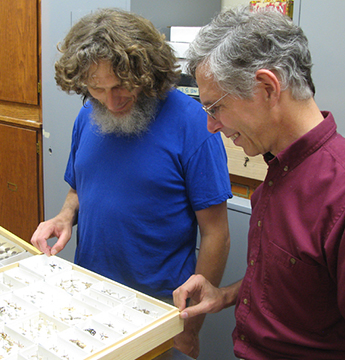 Jan Metlevski (left), with Gerald Fauske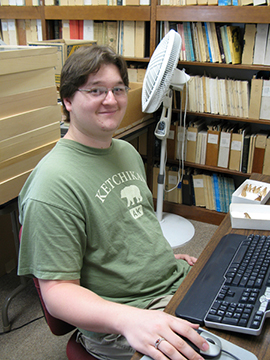 Clancey Livingston
Kate Haddock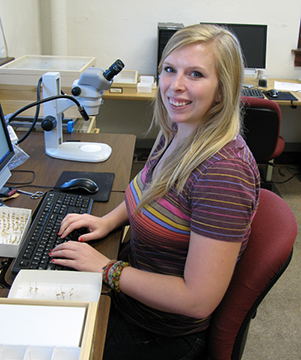 Dana Nelson
Recent Publications
Raghavan, R. M., D. G. Goodin, G. A. Hanzlicek, G. Zolnerowich, M. W. Dryden, and R. R. Ganta. Maximum entropy modeling to estimate the distribution of Ambylomma americanum ticks in Kansas. Submitted to PLOS ONE.
Burke, A., and G. Zolnerowich. Cymatodera ochlera Barr, a junior synonym of Cymatodera wolcotti Barr, with a comparison to similar species (Coleoptera: Cleridae: Tillinae). Submitted to ZooTaxa.
Burke, A., and G. Zolnerowich. 2014. Four new species of Cymatodera Gray from Mexico (Coleoptera, Cleridae, Tillinae). ZooKeys 387: 33-49.
Zolnerowich, G., and R. L. Zuparko. 2010. Copidosoma howardi, a new name for Parapsilophrys gelechiae Howard, 1898. Pan-Pacific Entomologist 8: 135-138.
Metlevski, J., and G. Zolnerowich. 2009. A new species of Drasteria Hubner (Lepidoptera: Noctuidae: Catocalinae: Melipotini) from Arizona. Journal of the Lepidopterists' Society. 63: 1-10.
Zolnerowich, G., and M. Rose. 2008. The Genus Eretmocerus Haldeman (Hymenoptera: Chalcidoidea: Aphelinidae). pp.89-100 In: J. Gould, K. Hoelmer and J. Goolsby. Classical Biological Control of Bemisia tabaci in the United States: a Review of Interagency Research and Implementation. Vol. 4, Progress in Biological Control (H.M.T. Hokkanen, series ed.). Springer, Dordrecht, the Netherlands. 343 pp.
Zolnerowich, G. 2008. Status of Eretmocerus (Hymenoptera: Aphelinidae) systematics. Journal of Insect Science 8: 54.
Kula, R. R., and G. Zolnerowich. 2008. Revision of New World Chaenusa Haliday sensu lato (Hymenoptera: Braconidae: Alysiinae), with new species, synonymies, hosts, and distribution records. Proceedings of the Entomological Society of Washington 110: 1-60.