Hampton, Kent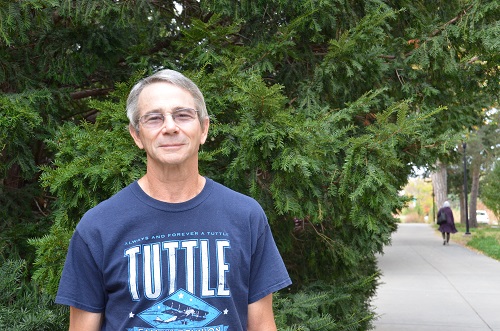 Research Technician
28 West Waters
Manhattan KS 66506
Phone: (785) 532-4724
Fax: (785) 532-6232
"The definition of an inventor is someone who takes inventory of what they have and then tries to figure out how they can accomplish what they need to with it," explains Kent Hampton.

This not only rings true for Hampton in his various cooking endeavors, but also the projects he takes on as research assistant/technician, IT man and basically jack of all trades in the Department of Entomology.

Hailing from Fort Hays State University in Hays, Kan. with a master's degree in biology, focusing in fisheries biology, Hampton didn't expect to see himself working with insects.

After moving to Manhattan, Kan. following his wife who received a position with the Grain Research lab, Hampton found himself applying for a job as a research assistant with a livestock entomologist.

According to Hampton, the rest is history considering he has been in the department for 30 years.

During his time employed with the department, Hampton has worked on various projects, and is currently a technician in Brian McCornack's integrated pest management lab, working with a modified moth trap.

Hampton's favorite project centered on looking at attractants for fleas. During this project Hampton had the opportunity to build an arena that projected lights from different angles and a variety of wavelengths. The end goal was to get a response from the fleas regarding wavelengths emitted.

During the experiment a correlation was found between the attraction of the fleas when the light was briefly turned off and possible hosts passing in front of the light.

"Subsequent studies at the time showed that it was probably true, but at the time we were just going on 'I wonder what would happen if we shut off the light. Oh, Holy Cow! We're going to have to try that again," said Hampton.

Hampton's knack for problem solving doesn't end there, it also translates into his kitchen.

"I enjoy cooking, but I don't stick to recipes, they are a good jumping off point...well, I'm a bit inventive when I cook," said Hampton.

His most requested dish is smoked or barbequed brisket.

The agreement when Hampton asked his wife to marry him was that she did not want to do the cooking and cleaning, so Hampton cooks, while he and his wife share the cleaning duties.

They also share gardening duties, "My wife's the gardener, I'm the weed puller."

To enjoy the fruits of their labor, Hampton canned 33 pounds of tomatoes this fall, and last fall made homemade ketchup from the tomatoes.

Not only is he the cook at home, he is also the handyman, having built cabinets in his house and refinished rooms in his basement.

Hampton says his abilities and interests line up midway between ideas and things, according to an interest inventory placement test he took after his graduation. He continued to explain that his job(s) within the department deal with ideas and concepts and things.

"In many instances I take ideas and concepts and things and put them together into something that works, like the flea arena," said Hampton.
Publications
Burks, C.S., D.W. Hagstrum, K.E. Hampton, and A.B. Broce. 1997. Crystallization temperature and chilling injury during overwintering in a feral face fly (Diptera: Muscidae) population. Environmental Entomology 26: 1124-1130.
Broce, A.B., J.R. Schwenke, and K.E. Hampton. 1991. Landing pattern of stable flies (Diptera: Muscidae) on the alsynite cylinder trap - effect of wind-speed and direction. Journal of Medical Entomology 28: 730-733.