Kansas Insect Newsletter 2000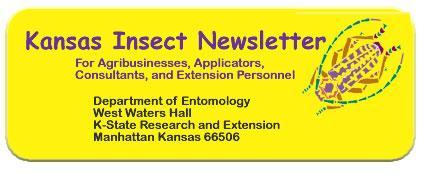 Issue #10, September 25, 2000
Wheat Insects, Fall Armyworm, Grasshoppers, False wireworms, Greenbugs, Hessian Fly, Flea Beetles, White Grubs and Winter Grain Mites.
Issue #9, July 25, 2000
Corn Insect Alert: Southwestern Corn Borers active in northern Kansas. Fall army worms in brome/grass pastures
Issue #8, June 29, 2000
Chinch bugs in wheat, milo and sorghum; Billbugs attacking sorghum.
Issue #7, June 20, 2000
Southwestern Corn Borers in the North? BT and non-BT corn refuges: how do the economics pencil out?
Issue #6, May 24, 2000
Chinch Bugs, Yellow Sugarcane Aphids in sorghum, Black fly nuisance along streams, Grain sorghum and stand reduction, Ants in the house?
Issue #5, May 1, 2000
Greenbugs, Aphids Attacking Canola, Russian Wheat Aphid, Pea and Blue Alfalfa Aphids, Black Cutworm--Post-Emergence Management in Field Corn and Corn Flea Beetles.
Issue #4, April 14, 2000
Flies, flies, and other kinds of flies; Wireworm problems in sorghum - preventatives for use; Greenbugs; Russian wheat aphid
Issue #3, March 31, 2000
Greenbugs, Russian Wheat Aphids, Brown Wheat Mites, English Grain Aphids, & Greenbug Parasites
Issue #2, March 17, 2000
Remember: There are new BT corn planting guidelines from EPA; Web address for EPA letters to bt registrants; Alfalfa weevil - start looking!
Issue #1, March 9, 2000
Greenbugs may still be a threat to wheat!; Army cutworm; Brown wheat mites; Cattle and horse owners in the entire eastern half of Kansas should be alert for gulf coast ticks in ears of livestock