Scholarships and Student Awards in Entomology
Scholarships
The departmental Awards Committee is pleased to announce that the following scholarships are available to Graduate Students in the Department of Entomology at KSU. The Awards Committee will evaluate the applications and select the award winners in each category. Students are encouraged to apply for the awards for which they are best qualified, and tailor their applications to the specific criteria. Award winners will be required to write a letter expressing appreciation to the sponsor, and submit a copy to the department before the award confirmation is forwarded to the Student Financial Assistance Office.

Eligibility:
Students who are properly registered in the KSU Entomology program for Spring 2021.
In all cases except the Pankaskie Scholarship, students who received an award previously cannot apply for that same award, but may apply for a different award in the current year.
Applicants may apply for up to two awards in one year if they so choose; however, the committee will strive to distribute the awards among as many qualified students as possible.
Acceptance of an application:
Specific application requirements are outlined on the respective scholarship pages
Applications should be submitted as a single PDF file of less than 5 MB to the Awards Committee Chair (contact information below)
Applications and supporting materials should be submitted electronically by 5:00 PM on Friday, February 26, 2021, to the Chair of the Awards Committee, Dr. Rob Morrison (william.morrison@usda.gov)
Applicants are responsible for providing all the application materials on time, including the support letter.
Summary of Scholarship Priorities (NOTE, these are subject to change based on availability):
---
Student Awards
Perry L. Adkisson Three-Minute Thesis Awards
These awards are presented to the top two performers in the MS and PhD categories of the Department of Entomology's Three-Minute Thesis Competition, held each spring during Mudge Week. The awards are named in honor of distinguished K-State Entomology alum Dr. Perry L. Adkisson. You can see last year's winners here, and can learn more about Dr. Adkisson and the Three-Minute Thesis competition here.
---
Graduate Student Mini-Grants
Funding of $500 per grant (one each for MS and PhD students annually) will be used to support the thesis or dissertation research projects. The funds may be used to purchase necessary supplies, or to support travel for data collection or training workshops relevant to the student's research program. Students may receive one mini-grant during their academic tenure in the department. Students must have completed at least one semester in their graduate program to be eligible for consideration. Contact current Chair of Academic Affairs Committee for more information (link is password protected). Applications are typically due November 1 of each calendar year (funds pending) and applicants are notified one month post application.
---
Perry L. Adkisson Three-Minute Thesis Awards
These award
Graduate Support Available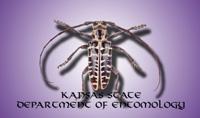 The Department of Entomology at Kansas State University is always on the lookout for graduate students to undertake thesis or dissertation research in one of the top graduate entomology programs in the United States. GRAs are typically about $25,000, depending on credentials, and may include partial or complete tuition waiver or compensation. Contact entomology@ksu.edu or 785-532-6154.