Floyd Holmes Scholarship
MS or PhD Award
(~1,500-$7,000 Scholarship)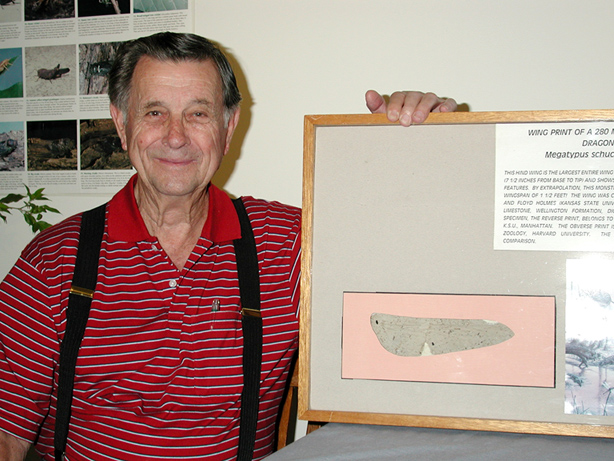 This award was established by Mr. Floyd Holmes (left, with a fossil dragonfly wing from the Elmo fossil bed of Kansas), an alum of the department. Mr. Holmes received the first graduate assistantship awarded by industry to the KSU Department of Entomology. He was a member of the US Army Medical Corps during World War II, in which he helped to manage diseases afflicting soldiers in the Pacific Theater. He had a long and accomplished career with DuPont where he was involved with pioneering work on a variety of insecticides and herbicides that became important pest management tools worldwide. His career spanned a wide range of applications from public health to crop pest management. The kindness and generosity of Mr. Holmes and his family in supporting the growth of our students is greatly appreciated!
This award is open to M.S. and Ph.D. students in the KSU Entomology Department, and is intended for students who are conducting applied research addressing practical problems. The application packet will include:
A cover letter that addresses the student's specific qualifications for the award and includes the student's contact information
1-2 page statement of student's specific qualifications in applied research addressing practical problems
Graduate school transcripts and grades (unofficial transcripts are acceptable)
A copy of the student's research proposal, and any other evidence of scholarship potential in entomology
A letter of support from the major advisor or another faculty member; the letter must be submitted by the faculty member directly to the Awards Committee
The Awards Committee will evaluate the applications and select the winner based on the overall accomplishments of the student in entomology. According to the guidelines supplied by the KSU Foundation, the final approval of the recipient will be made by the General Scholarship Committee, who will act upon recommendations made by the departmental Awards Committee.
Scholarship Winners
| | | | |
| --- | --- | --- | --- |
| Year | Winner | Advisor(s) | Amount |
| 2020 | Jessica Butters | Tania Kim | $3,000 |
| 2019 | Paulina Maldonado Ruiz | Yoonseong Park | $5,000 |
| 2018 | Jacqueline Maille | Tom Phillips | $5,000 |
| 2017 | Shelly Wiggam | Greg Zolnerowich/Brian McCornack | $7,000 |
| 2016 | Salehe Abbar | Tom Phillips/Jeff Whitworth | $2,000 |
| 2015 | Alice Harris | Brian McCornack | $1,500 |
| 2014 | Barbara Amoah | Tom Phillips | $500 |
| 2013 | Maricela Robles-Murguia | Marcelo Ortigao | |