Corn Insects
Western Bean Cutworm, Richia albicosta.
Egg mass of western bean cutworm.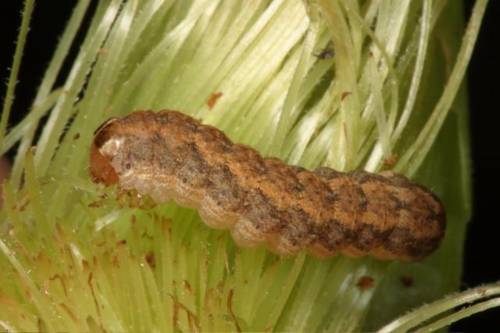 Larva of western bean cutworm.
This insect is an occasional problem in western Kansas. Adults have been collected in traps in other areas including Hays, Great Bend, Scandia and Hiawatha, but so far larvae have not been collected from fields in these areas. Careful scouting and timing of sprays are necessary to obtain adequate control.
Field scouting should begin at the first sign of tasseling and continue until the silks turn brown. Look for round white eggs in groups of 5 to 200 on the upper surface of the upper leaves. The eggs gradually become darker in coloration, hatching in five to seven days. Newly hatched larvae are pale with light-brown stripes running lengthwise down the back. An average of eight plants with eggs or small larvae per 100 plants (when corn is 95 percent tasseled) justifies control measures. Control will be reduced if applications are delayed until all silks have emerged or if larvae have already entered the ear tips. Typically, scouting should be most in tense between July 18 and 30 in southwest Kansas and about a week later in northwest Kansas.
Bt corn hybrids with Herculex I and Herculex XTRA (Containing the event TC 1507 with Cry1F) are said to provide adequate protection against larvae of the western bean cutworm and may be a consideration for producers who have experienced problems with this pest.
Please refer to the most recent version of the Corn Insect Management Guide for treatment options.
Page last updated 3/15/2015 by J.P. Michaud.