Kansas Insect Newsletter 2001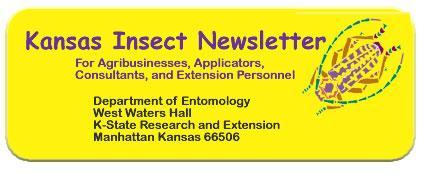 Issue #9, September 17, 2001 (520 KB)
Watch seedling alfalfa now for worm problems, Green cloverworms and woollybear caterpillars in soybean, avoid delaying harvest of stem borer-infested soybeans.
Issue #8, September 11, 2001 (1.08 mb)
Wheat outlook for fall, worm infestations, Hessian fly-free date, grasshoppers, false wireworms, greenbugs and other wheat aphids, flea beetles, and mites.
Issue #7, August 16,2001 (584 KB)
Webworms in alfalfa, Section 18 crisis specific exemption for seed production sorghum, revised reassessment of Bt corn and Bt cotton.
Issue #6, August 3, 2001 (509 KB)
Corn earworm and sorghum webworm.
Issue #5, July 30, 2001 (344 KB)
Spider mites, soybean aphid and soybean stem borers.
Issue #4, July 20, 2001 (652 KB)
False chinch bugs, garden webworm on soybean and alfalfa, greenbugs.
Issue #3, June 11, 2001 (799 KB)
Early season greenbugs, chinch bugs or false chinch bugs, armyworms, burrower bugs, wheat lodging, European corn borer moths, rootworm damage evaluations, soybean aphid in Illinois, Hornworms.
Issue #2, April 27, 2001 (96 KB)
Sorghum seed and soil treatment options, Planter box seed treatment, Some wireworm research, Wheat insects, Alfalfa insects, Corn insects, and bean leaf beetles on volunteer soybeans.
Issue #1, March 21, 2001 (88 KB)
http://www.ksre.k-state.edu/extension/KIN/KIN01-1.pdf
Army cutworms; Damage to alfalfa and canola; 2001 Kansas Insect Newsletter mailing Address Update; 2000 Kansas Insect Newsletter Index