Kansas Insect Newsletter 2007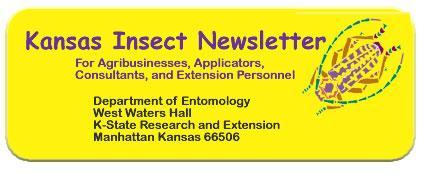 Issue #31; October 5, 2007
Oak Leaf Itch Mite
Issue #30; September 21, 2007
What are they; Soybeans; Oak Leaf Itch Mites; Diagnostic Laboratory Report
Issue #29; September 14, 2007Large hairy striped caterpillars; Insecticidal Seed Treatment Options for Wheat
Issue #28; September 7, 2007
Yellow Woollybear Caterpillar and Saltmarsh Caterpillar
Issue #27; August 31, 2007
Time to Control Volunteer Wheat; Leaf scorch, or what???; Diagnostic Laboratory Report
Issue #26; August 24, 2007
"Raining water = Good. "Raining" elm branches - Nuisance; Soybean-Green Cloverworms; Mimosa Webworm; Recent Change in Shipping Regulations for Insect Samples
Issue #25; August 17, 2007
Too late to: Bagworms, Elm leaf beetle, Tobacco and tomato hormworms; Sunflower Moth; Spider Mites; Aphids in Sorghum; Diagnostic Laboratory Report
Issue #24; August 10, 2007
Fall Webworms; Cicada Killers; At the salad bar (grasshoppers); And the other webworm; Sorghum: "Headworms"; Soybeans: Soybean Aphids; Alfalfa - cowpea aphids; Spider Mites; Sunflower Moth
Issue #23; August 3, 2007
Fall Armyworms and Corn Leaf Aphids on Sorghum; Fall webworms in the summer?; The "Other" Flies; Diagnostic Laboratory Report; Soybeans
Issue #22; July 27, 2007
Where have all the itch mites gone; Soybeans; Corn
Issue #21; July 19, 2007,
Soybeans; Summer Flies on Pastured Cattle
Issue #20; July 13, 2007
Broken thumb; First human case of the West Nile virus infection in Kansas this year; More on Musk Thistle Weevils; Corn; Soybeans; Alfalfa; Additional Product for Grasshopper Control; Sunflower Moth; Thistle Caterpillar
Issue #19; July 6, 2007
Western Bean Cutworm; Grasshoppers; Whitelined Sphinx Moth Larvae; Hessian fly; Alfalfa; Squash Bugs; Black beetles attracted to lights
Issue #18; June 29, 2007
Optimum Time for Bagworm Control; Masked Chafers; Resurgence of Hessian Fly in Western Kansas?; Musk thistle problems? Weevils can help; Rootworm Beetle Scouting; Time to Rate Roots for Rootworm Injury; Soybean Aphids
Issue #17; June 21, 2007
Insect "Killer" Bacillus thuringiensis (Bt); Alfalfa; Soybeans; Wheat Head Armyworm; Accumulated GDD's - March 1 thru June 21; "Masked Chafers"
Issue #16; June 15, 2007
Alfalfa; Chased by bumble bees???; Hundreds of worms with "tail horns"; Moth Invasion
Issue #15; June 8, 2007
Hessian Fly; Accumulated GDD's - March 1 - June 6; Buffalograss webworm; Entertaining Video and Commentary on the Insect Zoo
Issue #14; June 1, 2007
Mosquito Populations Are On The Rise; Time to get bins ready for wheat harvest; Armyworms; Pillbugs; Slugs; Wooly....but not Bo Peep's sheep; Periodical cicadas in Kansas?; Accumulated GDD's - March 1 - May 23
Issue #13; May 25, 2007
Accumulated GDD's - March 1 - May 23; Initiation of 2007 bagworm activities
Issue #12; May 18, 2007
Bagworms; FMC Announces Several Label Changes; Methyl Bromide Inventory Continues Downward Trend; Accumulated GDD's - March 1 - May 16; A "Hummingbird Harbinger" of things to come; To Rotate Or Not To Rotate, if so, how?; Adult Alfalfa Weevils; Bird Cherry Oat Aphids in Wheat; Armyworms in Wheat
Issue #11; May 11, 2007
Mid-Con is now Heartland Honey and Beekeeping Supply; Northeastern Kansas Beekeepers' Super Funday; Northeastern Kansas Beekeepers' Assoc Registration Form; Northeastern KS Beekeeper's Assoc. 2007 Membership Application; Consider a Beekeeping Organization Membership; Welcome - Kansas Honey Producers' Association; Notice to all Home Termite Inspectors; 2007 Bagworm Hatch; What is in the bites of flies and mosquitoes?
Issue #10; May 4, 2007
Insect Spectacular 2007; New Sunflower Web Pages; Dectes Stem Borer Distribution; Question of the Week; Seedling Pests; Accumulated GDD's - March 1 - May 2; And they're approaching the finishing line (or "The Happy Wanderers"); May Beetle/June Beetle feeding; Bird Cherry Oat Aphids (BCOSs)
Issue #9; April 27, 2007
Impact of Cold Weather on Plants; Accumulated GDD's: March 1 - April 25; Ash/lilac borer; Predicting the level of itch mite populations
Issue #8; April 20, 2007
Resumption of GDD Accumulations; Billbugs in Turf?; Hessian Fly; Honey Bee Colony Collapse Disorder
Issue #7; April 13, 2007
No change in Accumulated GDD's; Alfalfa Weevil; Lousy Horses
Issue #6; April 6, 2007
Russian Wheat Aphids Detected; Alfalfa Questions of the Week; Next Tier Of Ornamental Insect Pests As Determined By GDD's
Issue #5; March 30, 2007 #5
2007 ACCUMULATED GDDs FOR KANSAS; Alfalfa Weevil; Termite Preswarmers
Issue #4; March 23, 2007
Colony Collapse Disorder; Army Cutworm Alert; Predicting Insect Problems based on Winter Weather; Spring Has Sprung; Warmer Days and Warmer Nights = Accumulated Growing Day Degrees
Issue #3; February 23, 2007
A Tool for Helping to Determine the Onset of Insect and Mite Pest Activities
Issue #2; February 16, 2007
Managing Soybean Aphids in 2007 - How Will Biological Control Contribute?; Highlighted Changes for 2007 Insect Management Guides
Issue #1; February 7, 2007
Entomology Extension Faculty - 2007; Do something now to control spring populations of stable flies in pastures